03-02-2018 | Introduction | Uitgave 2/2018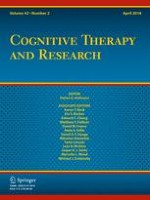 Introduction to the Special Issue on Processes of Cognitive Behavioral Therapy: Does "Necessary, But Not Sufficient" Still Capture It?
Tijdschrift:
Auteur:

Nikolaos Kazantzis
Abstract
Research over the last four decades on cognitive behavioral therapy (CBT) is leading to a more comprehensive understanding of the mechanisms that underpin its efficacy. This introduction to the next generation of research on process offers a brief account of the evolution in the scientific foundations of CBT, to our current focus on treatment and in-session processes. It also provides a generic model for linking techniques with their target, uses, and treatment processes. In addition, how each component can be adapted according to CBT-specific elements of the client-therapist relationship (collaboration, empiricism, and Socratic dialogue) in a manner that is guided by the case conceptualization provides a more complex and comprehensive understanding of treatment delivery. The various research studies included within this special issue make important contributions to our understanding of the different ways in which both treatment and in-session processes are important to CBT.