01-01-2014 | Original Article | Uitgave 1/2014 Open Access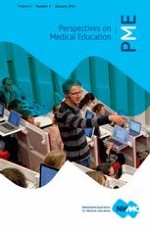 Interactive E-learning module in pharmacology: a pilot project at a rural medical college in India
Tijdschrift:
Auteurs:

Nitin Gaikwad, Suresh Tankhiwale
Belangrijke opmerkingen
N. Gaikwad is previously with Jawaharlal Nehru Medical College, Datta Meghe Institute of Medical Sciences, Wardha, India.
Abstract
Many medical educators are experimenting with innovative ways of E-learning. E-learning provides opportunities to students for self-directed learning in addition to other advantages. In this study, we designed and evaluated an interactive E-learning module in pharmacology for effectiveness, acceptability and feasibility, with the aim of promoting active learning in this fact-filled subject. A quasi-experimental single-group pre-test/post-test study was conducted with fourth-semester students of the second professionals course (II MBBS), selected using non-probability convenience sampling method. An E-learning module in endocrine pharmacology was designed to comprise three units of interactive PowerPoint presentations. The pre-validated presentations were uploaded on the website according to a predefined schedule and the 42 registered students were encouraged to self-learning using these interactive presentations. Cognitive gain was assessed using an online pre- and post-test for each unit. Students' perceptions were recorded using an online feedback questionnaire on a 5-point Likert scale. Finally, focused group discussion was conducted to further explore students' views on E-learning activity. Significant attrition was observed during the E-learning activity. Of the 42 registered students, only 16 students completed the entire E-learning module. The summed average score of all three units (entire module) was increased significantly from 38.42 % (summed average pre-test score: 11.56/30 ± 2.90) to 66.46 % (summed average post-test score: 19.94/30 ± 6.13). The class-average normalized gain for the entire module was 0.4542 (45.42). The students accepted this E-learning activity well as they perceived it to be innovative, convenient, flexible and useful. The average rating was between 4 (agree) and 5 (strongly agree). The interactive E-learning module in pharmacology was moderately effective and well perceived by the students. The simple, cost-effective and readily available Microsoft PowerPoint tool appealed to medical educators to use this kind of simple E-learning technology blended with traditional teaching to encourage active learning among students especially in a rural setup is attractive.