Gepubliceerd in: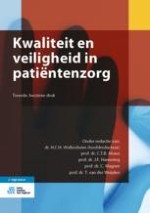 2020 | OriginalPaper | Hoofdstuk
1. Inleiding in kwaliteit en veiligheid van zorg
Samenvatting
Hoewel de de gezondheidszorg enorme stappen voorwaarts maakt, blijft het verbeteren van de kwaliteit en veiligheid een urgente noodzaak. Want vaker dan gewenst wordt geen optimale patiëntenzorg geleverd. Bij ongeveer 40 % van de patiënten is er sprake van te veel, te weinig of verkeerde zorg en een op de tien in het ziekenhuis opgenomen patiënten loopt schade op waarvan de helft te voorkomen is. Er is ruimte voor groei van wetenschappelijke onderbouwing van behandelingen; slechts 40 % is bewezen effectief, 10 % bewezen ineffectief en 50 % onbekend (zie:
https://​tinyurl.​com/​Zorgevaluatie-en-gepastgebruik
). Optimale zorg is doeltreffend en doelmatig, persoonsgericht, veilig, toegankelijk en moreel verantwoord. Bij het verbeteren van de zorg op al deze terreinen staat de kwaliteitscyclus centraal, met in de eerste fase de definiëring van kwaliteit (wat is goede zorg?), gevolgd door diagnostische gap-analyse: op welke punten en waarom is de zorg niet zoals gewenst? In deze diagnostische fase zijn kwantitatieve meetmethodieken zoals indicatoren voor probleemidentificatie en kwalitatieve probleemanalyses van bijvoorbeeld incidenten of klachten noodzakelijk. In de behandelfase staat de verbetering van suboptimale kwaliteit centraal. De verbeterstrategie kan zich richten op het micro-, meso- en macroniveau van de gezondheidszorgpiramide. Naast het uitvoeren van organisatorische interventies is voor het bereiken van optimale zorg ook nodig dat zorgprofessionals zelf in staat zijn kwalitatief hoogstaande zorg te leveren. Hiertoe dienen zij nieuwe competenties te ontwikkelen, zoals competent leiderschap, reflecteren op het eigen handelen, levenslang leren, en verantwoording nemen en afleggen over de geboden kwaliteit van zorg.