2013 | OriginalPaper | Hoofdstuk
30. Infective Endocarditis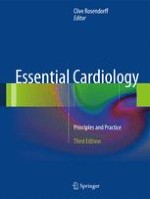 eerste hoofdstuk lezen
Auteur: MD Adolf W. Karchmer
Uitgeverij: Springer New York
Abstract
The incidence and clinical manifestations of infective endocarditis (IE) have remained stable over the past four decades. The epidemiology and consequently the microbiology of IE have changed dramatically during this time period. As a result of modern healthcare using invasive technology, including the implantation of intracardiac devices (prosthetic valves, pacemakers, implanted defibrillators), 25–35 % of IE is healthcare associated and occurs in older patients with multiple comorbidities resulting in increased risk of death. From 13 to 22 % of IE involves prosthetic valves (PVE) and 6 to 13 % involves cardiac implanted electrical devices. Extensive injection drug abuse in our society has become another major predisposition accounting for 10 % of cases. Because of these two predispositions,
Staphylococcus aureus
, with its increased virulence and significant association with embolic complications, valve destruction, and increased mortality, has become the single most common organism causing IE. Antimicrobial therapy has evolved to address increased resistance among classical organisms causing IE and increased awareness of adverse events result from treatment. Newer regimens include short-course combination therapy for penicillin-susceptible viridans streptococcal native valve IE (NVE). The role of gentamicin in treating left-sided
S. aureus
NVE has been questioned; double beta-lactam therapy for
Enterococcus faecalis
and daptomycin for right-sided
S. aureus
IE are new regimens. The indications for surgical treatment have been clarified by more sophisticated statistical analyses and as has the population wherein early (first week) valve replacement will reduce mortality. It has become clear that reduced mortality resulting from valve surgery is not fully recognized until 6 months have elapsed from initial hospitalization. Lastly, the approach to prevention of IE has been markedly truncated. Prophylaxis in the United States is currently recommended for only 4 groups of patients identified as those at greatest risk of morbidity and mortality from IE and is advised only in association with dental and respiratory tract procedures, while in the United Kingdom, prophylaxis is no longer recommended for anyone.