2013 | OriginalPaper | Hoofdstuk
1. Multivariable Evaluation of Candidates for Cardiovascular Disease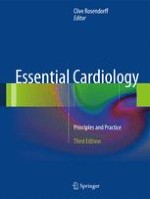 Auteurs: FAHA Ralph B. D'Agostino Sr., MD, MPH, FACC William B. Kannel
Uitgeverij: Springer New York
Abstract
A preventive approach to the management of atherosclerotic cardiovascular disease (CVD) is needed. It is the leading cause of death in the USA and across most of the world. Those fortunate enough to survive can seldom be restored to full function. Extensive epidemiologic research and clinical trials have identified modifiable predisposing risk factors which, when corrected, can reduce the likelihood of its occurrence. Because CVD is a multifactorial disease with the risk factors interacting multiplicatively over time to promote it, these risk factors need to be assessed jointly. To accomplish this, multivariate risk prediction functions (algorithms) which estimate the probability of cardiovascular events conditional on the burden of specified risk factors have been produced to facilitate evaluation of candidates for CVD in need of preventive management.
Over six decades, the Framingham Study and other epidemiological studies have identified modifiable CVD risk factors that have a strong dose-dependent and independent relationship to the rate of development of atherosclerotic CVD. They include classes of risk factors such as atherogenic personal traits, lifestyles that promote them, and innate susceptibility. Most of the relevant risk factors are easy to assess during an office visit and include systolic blood pressure, blood lipids (total and HDL cholesterol) diabetes status, and current smoking. These risk factors in addition to age and sex are the standard CVD risk factors that are basic components in most risk prediction functions.
We summarize the data that established the standard risk factors. We then present the justification and need for multivariate evaluation and prediction functions along with some history. We illustrate the above using examples of existing functions. Then we discuss the evaluation of the performance of the functions and the validity and transportability of existing functions. We end with the discussion of adding new variables (novel biomarkers) to risk prediction.