2013 | OriginalPaper | Hoofdstuk
29. Rheumatic Fever and Valvular Heart Disease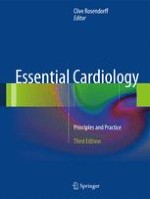 eerste hoofdstuk lezen
Auteurs: MB, ChB, FCP (SA) Blanche J. Cupido, MB, ChB, FCP (SA), FACC Patrick J. Commerford
Uitgeverij: Springer New York
Abstract
Although the incidence of rheumatic fever has declined dramatically in developed countries in the last few decades, it continues to be a major cause of morbidity and mortality in the developing world. There is no test specific for the diagnosis in rheumatic fever, and the diagnosis relies heavily on clinical findings and a few simple investigations.
Those with a history of or established rheumatic fever are at increased risk of recurrence, and thus, a lower threshold for the diagnosis of recurrence has been established. Secondary prophylaxis has proven to be the most cost-effective strategy for the prevention of recurrence. Especially in high-risk settings and in more severe valvular heart disease, a longer period, in some cases even lifelong, of prophylaxis is advocated according to the new WHO guidelines.
Mitral stenosis is almost exclusively due to rheumatic heart disease. Medical management, percutaneous balloon valvuloplasty, and valve replacement strategies are discussed. Pure MR is uncommon in rheumatic heart disease. Mitral valve repair or replacement is indicated in patients with severe MR and NYHA III or IV. Asymptomatic or mildly symptomatic patients can be managed medically provided LVEF and symptoms get monitored, and they are referred for surgery if the EF falls toward 60 % or the end-systolic dimension reaches 45 mm.
Aortic stenosis requires surgery when symptoms occur. Patients with severe aortic regurgitation should also be offered valve replacement when they become symptomatic. Those with severe AR who do not experience symptoms require careful evaluation and follow-up of their left ventricular ejection fractions and end-systolic and end-diastolic diameters to determine when surgery would be warranted.
Tricuspid disease is often overlooked as the symptoms of the left-sided lesion may predominate. It is almost always associated with mitral valve disease and adds a dimension of complexity to the treatment as well as an unfavorable impact on prognosis.
In many cases multiple valves are involved, and this has a profound impact on the assessment, by any modality, of the severity of each individual valve lesion.