01-04-2017 | Eye-Opener | Uitgave 2/2017 Open Access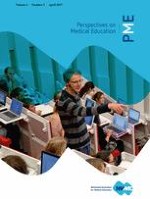 'How would you call this in English?'
Being reflective about translations in international, cross-cultural qualitative research
Tijdschrift:
Auteurs:

Esther Helmich, Sayra Cristancho, Laura Diachun, Lorelei Lingard
Abstract
Introduction
Medical education researchers increasingly collaborate in international teams, collecting data in different languages and from different parts of the world, and then disseminating them in English-language journals. Although this requires an ever-present need to translate, it often occurs uncritically. With this paper we aim to enhance researchers' awareness and reflexivity regarding translations in qualitative research.
Methods
In an international study, we carried out interviews in both Dutch and English. To enable joint data analysis, we translated Dutch data into English, making choices regarding when and how to translate. In an iterative process, we contextualized our experiences, building on the social sciences and general health literature about cross-language/cross-cultural research.
Results
We identified three specific translation challenges: attending to grammar or syntax differences, grappling with metaphor, and capturing semantic or sociolinguistic nuances. Literature findings informed our decisions regarding the validity of translations, translating in different stages of the research process, coding in different languages, and providing 'ugly' translations in published research reports.
Discussion
The lessons learnt were threefold. First, most researchers, including ourselves, do not consciously attend to translations taking place in international qualitative research. Second, translation challenges arise not only from differences in language, but also from cultural or societal differences. Third, by being reflective about translations, we found meaningful differences, even between settings with many cultural and societal similarities. This conscious process of negotiating translations was enriching. We recommend researchers to be more conscious and transparent about their translation strategies, to enhance the trustworthiness and quality of their work.