01-10-2009 | Uitgave 7/2009 Open Access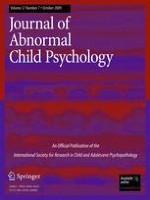 How Distinctive are ADHD and RD? Results of a Double Dissociation Study
Tijdschrift:
Auteurs:

Christien G. W. de Jong, Séverine Van De Voorde, Herbert Roeyers, Ruth Raymaekers, Jaap Oosterlaan, Joseph A. Sergeant
Introduction
Method
Participants
Children with ADHD and children with ADHD+RD were recruited in six pediatric outpatient clinics in The Netherlands and one outpatient clinic in Belgium. Children with RD were recruited by advertisements in Belgium, since they are not regularly seen by pediatricians. Normal controls were recruited in regular primary schools in the Netherlands. For the clinical groups, 155 children were screened out of which 60 children did not meet criteria for the study; 8 children did not meet the prescreening criteria, 3 children did not meet RD criteria, 34 children did not meet criteria for ADHD-Combined subtype (ADHD-C), 7 children had severely impaired pragmatic skills, 2 children showed arithmetic deficits, 2 children showed conduct disorder, 1 child had severe symptoms of depression and one child had a very low IQ and two children did not give consent to participate in the study. A total of 24 children with ADHD, 41 children with RD, and 29 children with ADHD+RD were enrolled in the study.
Thirty children were screened for the normal control group. Four children met criteria for ADHD, thus 26 children were enrolled in the normal control group. The final sample consisted of 120 children aged 8–12 years. In total, 38 girls and 82 boys participated in the study. All children were of Caucasian origin, except two children in the ADHD only group; one child was of Asian origin and the other child was half-African. Subject characteristics are presented in Table
1
.
Table 1
Subject Characteristics
ADHD

ADHD+RD

RD

NC

(♀ = 4)

(♀ = 6)

(♀ = 18)

(♀ = 10)

Pairwise Comparisons

Measure

Age in Years

9.00

(1.31)

9.83

(1.33)

10.10

(1.04)

9.31

(0.92)

NC,A<R

IQ

101.21

(15.02)

95.34

(8.64)

104.85

(9.18)

107.32

(9.40)

C<R,NC

Picture Arrangement

10.04

(3.30)

10.21

(1.95)

11.61

(2.51)

10.38

(1.96)

ns

Arithmetic

9.75

(3.62)

8.89

(2.58)

10.28

(2.99)

12.38

(2.81)

C,R,A<NC

Block Patterns

9.83

(2.76)

8.82

(2.73)

11.56

(2.46)

11.00

(2.46)

C<R,NC

Vocabulary

11.21

(2.87)

8.86

(2.62)

9.95

(2.65)

12.08

(2.22)

C,R<A,NC

DBD Parents

Inattention

18.33

(4.50)

17.59

(3.63)

7.22

(4.60)

1.88

(2.12)

C,A>R>NC

H/I

17.92

(4.60)

18.31

(3.49)

4.22

(3.73)

2.58

(2.08)

C,A>R,NC

ODD

9.08

(4.67)

8.55

(4.05)

2.83

(2.55)

1.85

(2.24)

C,A>R,NC

CD

1.67

(2.68)

1.70

(1.79)

0.67

(0.06)

0.10

(0.30)

A>NC,C>R,NC

DBD Teacher

Inattention

17.13

(4.91)

17.14

(3.68)

5.43

(4.67)

1.54

(1.90)

C,A>R>NC

H/I

16.50

(4.99)

17.17

(4.70)

2.80

(3.54)

1.31

(2.31)

C,A>R,NC

ODD

6.73

(5.11)

7.00

(4.56)

1.42

(2.43)

0.92

(1.69)

C,A>R,NC

CD

1.95

(2.69)

2.08

(1.88)

0.26

(0.59)

0.04

(0.20)

C,A>R,NC

CCC Pragmatic Score

Parents

139.65

(10.40)

138.72

(10.03)

151.61

(7.35)

154.92

(6.20)

C,A<R,NC

Teacher

137.91

(10.22)

138.11

(12.20)

150.77

(7.04)

152.96

(8.45)

C,A<R,NC

PDISC-IV

OCD

0.67

(2.01)

0.00

(0.00)

0.00

(0.00)

0.00

(0.00)

A>C,R,NC

Tic Disorder

1.25

(2.87)

0.00

(0.00)

0.00

(0.00)

0.00

(0.00)

A>C,R,NC

MD

1.58

(3.00)

0.14

(0.51)

0.00

(0.00)

0.00

(0.00)

A>C,R,NC

Inattention

15.92

(2.16)

16.00

(2.44)

5.02

(3.29)

1.00

(2.20)

A,C>R>NC

H/I

15.67

(1.92)

15.72

(2.25)

2.24

(2.93)

1.00

(1.98)

A,C>R,NC

ODD

6.92

(4.96)

4.83

(4.52)

0.49

(1.71)

0.38

(0.98)

A,C>R,NC

CDRS

Raw Score

24.58

(4.28)

20.76

(2.29)

20.34

(5.14)

18.24

(1.71)

A>C,R,NC

Reading

OMTª

−0.75

(10.36)

23.14

(8.95)

25.90

(9.09)

−8.12

(15.09)

R,C>A,NC

TRTª

3.08

(6.50)

22.97

(9.54)

25.51

(9.86)

−1.12

(5.92)

R,C>A,NC

PRTª

−3.67

(13.93)

23.97

(11.41)

26.54

(12.00)

−8.62

(18.33)

R,C>A,NC

Arithmetic

SATª

3.09

(14.13)

11.41

(13.62)

10.02

(8.34)

−4.92

(11.95)

C,R>NC

CSA

52.33

(32.22)

33.38

(20.46)

55.85

(31.56)

52.88

(23.54)

C<R
Measures to Obtain a Diagnosis of ADHD and RD
All participating children were screened for the presence of ADHD-C with the Disruptive Behavior Rating Scale (DBD; Pelham et al.
1992
; Dutch translation: Oosterlaan et al.
2000
). The DBD is a reliable and valid instrument to screen for ADHD, ODD and CD (Oosterlaan et al.
2000
). To meet the criterion of pervasiveness of ADHD, the DBD was completed by both the parent and the teacher. The parent version of the Diagnostic Interview for Children (PDISC-IV-IV; National Institute of Mental Health (NIMH), Shaffer et al.
2000
; Dutch translation; Ferdinand et al. 1998
Diagnostic Interview Schedule for Children, DISC-IV. Nederlandse Vertaling
[Dutch Translation]. Unpublished manuscript. Sophia Kinderziekenhuis, Rotterdam) was administered. Adequate reliability and validity have been reported for earlier versions of the PDISC-IV (Schwab-Stone et al.
1996
). The diagnosis of ADHD as assessed by the PDISC-IV was based on the DSM-IV and the ICD -10. A diagnosis of ADHD-C was made if (a) scores on the DBD fell at least in the subclinical range (≥ 90
th
percentile) on both the Inattention and Hyperactivity/Impulsivity scales rated by both the parents and the teacher and (b) when the criteria for ADHD on the PDISC-IV were met.
All children were screened for RD using two Dutch technical word reading tests: the One Minute Test (OMT; Brus and Voeten
1973
), the Pseudo-word Reading Test (PRT; Van den Bos et al.
1999
) and a text reading test; the Text Reading Test (TRT; Visser et al.
1998
). All have adequate validity (Van der Sluis et al.
2005
). A diagnosis of RD was made, if children had at least 15 months delay on at least two of the three reading tasks, as indicated by DSM-IV criteria for RD.
Exclusion Criteria for All Groups
Medication
Children were off stimulant medication at least 48 h before testing. In the ADHD only group, 13 children and 9 children in the ADHD+RD group were on stimulant medication. Children were not on other types of medication.
Neuropsychological Measures
Procedure
Data was obtained during three visits. During visit 1, informed consent was obtained and potential eligibility determined, following this visit the DBD and CCC were completed by parents and teachers. On visit 2, all other diagnostic and screening measures were obtained. During visit 3, the Stop Signal Paradigm, Lexical Decision task and Corsi Block Tapping test were administered using standardized instructions. The study was approved by a medical ethical committee.
Data Analysis
For the visuospatial WM task (Corsi Block Tapping test), 2.5% of the data were missing. These missing data were replaced by regression analysis following Tabachnick and Fidell (
2007
). Data were missing for three children, who had just started reading, on the Lexical Decision task. All variables were normalized using a Van der Waerden transformation based on rankings (Lehmann
1975
).
In order to investigate the effects of ADHD, RD and the interactions between both, the dependent variables in the study were analyzed and covaried for age using a between group factorial ANCOVA. The study had a 2 × 2 design with ADHD as one factor with two levels (present or absent) and a second factor RD with two levels (present or absent). An alpha level of 0.05 was employed. Post-hoc testing was performed with Bonferroni t-tests which were corrected for multiple comparisons.
Results
Discussion
Results of this double dissociation study revealed that RD was associated with inhibitory deficits and slower processing. Impulsivity was associated with ADHD; inhibition deficits were marginally demonstrated in children with ADHD. Both ADHD and RD were associated with lapses of attention. Impairments in lexical decision were present in both ADHD and RD. RD, regardless of ADHD, was invariably associated with slower decoding processing. The ADHD only group had slower decoding processing speed compared to the normal control group but better than the RD groups. The ADHD only group was characterized by visuospatial working memory deficits. Findings for the ADHD factor were related to IQ; whereas findings for the RD factor were independent of IQ. These results indicate that there was no double dissociation observed in this study using a primary measure of inhibition, visuospatial WM and lexical decision making.
The failure to find a double dissociation on inhibition, visuospatial WM and lexical decision making should be considered with some issues in mind. Firstly, the sample size was small. However, it should be noted that there were main effects reported here with large effect sizes even with small a sample size Secondly, it could be argued that the ADHD group was poorly diagnosed. This seems unlikely, since we applied a rigorous inclusion and exclusion procedure both in terms of associated psychiatric and neuropsychological disorders. Thirdly, the overlap in lexical decision and the inhibition deficits of RD may have been due to sub-threshold findings of ADHD in RD and vice versa. Children with RD only here had significant elevated ratings of inattention compared to normal controls. Hierarchical regression analyses (results may be obtained from the first author) revealed that following age and IQ, both inattention and technical reading contributed to inhibition deficits. This suggests that inattention and inhibition in the RD groups studied here may have a common functionality. Inattention and technical reading did not contribute to visuospatial WM, after IQ and age. Hence, results on visuospatial WM were independent of technical reading and inattention. Overlap in lexical decision was not due to ADHD symptoms but due to technical reading. Although technical reading abilities were poorer in children with ADHD only than in normal controls, this difference was not significant, which suggest that the overlap in lexical decision was not due to sub-threshold findings of RD in ADHD.
In this study, we found no double dissociation on lexical decision and inhibition between ADHD and RD. Since the ADHD only group was characterized by visuospatial WM, and children with RD regardless ADHD were slowest on decoding processing compared to ADHD only and normal controls. Visuospatial WM and decoding processing seem more useful candidates to demonstrate a double dissociation.
Acknowledgements
This study was sponsored by Eli Lilly and Company.
Open Access
This article is distributed under the terms of the Creative Commons Attribution Noncommercial License which permits any noncommercial use, distribution, and reproduction in any medium, provided the original author(s) and source are credited.