2021 | OriginalPaper | Hoofdstuk
13. Hij zei WAT???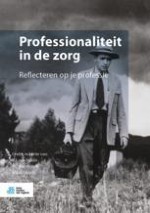 eerste hoofdstuk lezen
Over seksueel grensoverschrijdend gedrag
Auteur: Dr. Hanke Dekker
Uitgeverij: Bohn Stafleu van Loghum
Samenvatting
Seksueel grensoverschrijdend gedrag is van alle tijden en alle plaatsen, en komt dus ook in de gezondheidszorg voor. Het blijkt vaak samen te hangen met machtsverschillen. En die zijn er genoeg in de zorg. Het zijn overigens niet alleen zorgprofessionals in machtsposities die zich er schuldig aan maken. Ook patiënten vertonen soms grensoverschrijdend gedrag tegenover zorgpersoneel. Wat precies 'grensoverschrijdend' is, blijkt niet voor iedereen hetzelfde. Hoe je erop reageert of ermee omgaat, hangt af van je persoonlijkheid, opvoeding en persoonlijke geschiedenis. Waar de een zijn schouders over ophaalt, of schijnbaar moeiteloos puntige feedback geeft, zegt een ander niks en ligt een halve nacht wakker. Los van de discussie wat nou precies grensoverschrijdend is en hoe je ermee om zou moeten gaan, is het een feit dat er bijna nooit officieel melding van wordt gemaakt. Waarom is dat? En, kun je je wapenen tegen grensoverschrijdend gedrag?