14-05-2020 | Uitgave 10/2020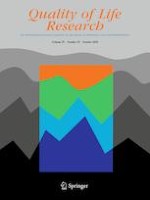 Health-related quality of life of type 2 diabetes patients hospitalized for a diabetes-related complication
Tijdschrift:
Auteurs:

Shuyan Gu, Xiaoyong Wang, Lizheng Shi, Qiuying Sun, Xiaoqian Hu, Yuxuan Gu, Xueshan Sun, Hengjin Dong
Belangrijke opmerkingen
Electronic supplementary material
Publisher's Note
Springer Nature remains neutral with regard to jurisdictional claims in published maps and institutional affiliations.
Abstract
Purpose
To estimate the health-related quality of life (HRQoL) of type 2 diabetes (T2DM) inpatients hospitalized for a complication in China and to explore the associated factors.
Methods
This was a cross-sectional study. T2DM inpatients (aged ≥ 18 years) hospitalized for a complication, including ischemic heart disease (IHD), acute myocardial infarction (AMI), congestive heart failure (CHF), stroke, impaired vision, end-stage renal disease (ESRD), ulcer, and amputation were recruited from a tertiary hospital in China from January to May 2017. The EuroQoL-5 dimensions were used to measure HRQoL. A one-way analysis of variance and a multivariate regression analysis were performed.
Results
Eight hundred and two T2DM inpatients hospitalized for a complication were included. The mean age was 62.67 years, and 43% of the inpatients were female. The mean utility-based HRQoL was 0.562 (95% CI 0.548, 0.577). The utility varied significantly between the complications: IHD = 0.620 (95% CI 0.597, 0.642), AMI = 0.434 (95% CI 0.394, 0.473), CHF = 0.471 (95% CI 0.433, 0.510), stroke = 0.472 (95% CI 0.436, 0.508), impaired vision = 0.714 (95% CI 0.692, 0.737), ESRD = 0.693 (95% CI 0.670, 0.717), ulcer = 0.431 (95% CI 0.375, 0.487), and amputation = 0.395 (95% CI 0.341, 0.448). Inpatients with a complication, who were female, and who had no daily exercise had a lower HRQoL.
Conclusions
The HRQoL of T2DM inpatients with a complication was considerably impaired. Our estimates provide supplementary data for public health and cost-effectiveness modeling, and increase the breadth of knowledge of HRQoL in T2DM.