18-05-2020 | Uitgave 10/2020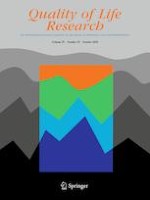 Genetic polymorphisms and haplotypes of BRCA1 gene associated with quality of life and survival among patients with non-small-cell lung cancer
Tijdschrift:
Auteurs:

Tong Su, Hao Sun, Xiaofang Lu, Chen He, Lei Xiao, Jingwen He, Yang Yang, Yunxiang Tang
Belangrijke opmerkingen
Publisher's Note
Springer Nature remains neutral with regard to jurisdictional claims in published maps and institutional affiliations.
Abstract
Purpose
Quality of life (QoL) and prognosis of lung cancer (LC) patients are poor. Previous studies focused less on the relationship between genetic factors and the QoL of LC patients. The current study is intended to explore the association of SNPs and haplotypes of BRCA1 and the QoL and survival of patients with LC.
Methods
QOL of 291 non-small-cell LC patients was measured by EORTC Core Quality of Life Questionnaire (QLQ-C30) and EORTC Quality of Life Questionnaire‐Lung Cancer 13 (QLQ-LC13) before discharge. Three tag SNPs of the BRCA1 gene (rs1799966, rs3737559, rs8067269) were detected using an improved multiplex ligation detection reaction (iMLDR) technique. Haplotype analysis was conducted using the software Haploview 4.2. The patients' survival was followed up every six months until March 2019.
Results
rs8067269 was associated with physical functioning (
β
 = 7.97,
p
 = 0.024) and diarrhea (Odds ratios (OR) 0.32,
p
 = 0.042). rs1799966–rs3737559–rs8067269 haplotype was associated with several domains of QoL, including physical functioning (TCG vs. CCA:
β
 = 6.21,
p
 = 0.010), worse dyspnea (TCG vs. CTA: OR 2.05,
p
 = 0.031) and peripheral neuropathy (TCG vs. CTA: OR 3.91,
p
 = 0.030). BRCA1 rs1799966 CC genotype, rs8067269 AA genotype and CCA haplotype were associated with longer survival time of LC patients (
p
 < 0.05).
Conclusion
SNPs and haplotypes of BRCA1 gene were associated with the QoL and survival of patients with LC. Patients with certain genotypes and haplotypes (i.e., rs8067269 AA genotype, or CCA haplotype) had better QoL and prognosis.