01-12-2007 | Uitgave 4/2007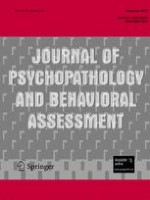 Further Psychometric Validation of the Mindful Attention Awareness Scale (MAAS)
Auteurs:

James MacKillop, Emily J. Anderson
Abstract
Mindfulness is an increasingly prominent construct in health research but its study has been impeded by a lack of well-validated measures. The Mindful Attention and Awareness Scale (MAAS; Brown and Ryan,
Journal of Personality and Social Psychology
, 84:822–848, 2003) is a promising measure and the goal of the present study was to further validate the MAAS in a large university sample (
n
 = 711). Confirmatory factor analysis supported the unidimensional factor structure of the MAAS in the overall sample. No gender differences in MAAS performance were evident, but the factor structure was not confirmed in the subsample of men, apparently due to power limitations. No categorical differences were evident based on experience with meditation, and MAAS performance was not significantly associated with experience with meditation. These findings are interpreted as broadly supporting the MAAS as a valid measure of mindfulness, but suggesting that novice-level experience with meditation should not be presumed to be associated with greater mindfulness.