2014 | OriginalPaper | Hoofdstuk
7. Flare-Ups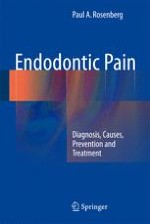 eerste hoofdstuk lezen
Auteur: DDS Paul A. Rosenberg
Uitgeverij: Springer Berlin Heidelberg
Abstract
The incidence of exacerbations (flare-ups) has been estimated to range from 2 to 20 %. This wide variation is due to differences in definitions of exacerbations and differences in research methodologies. This chapter describes causes of exacerbations and their treatment. Factors predisposing patients to exacerbation are reviewed. The presence of preoperative pain or mechanical allodynia (reduced mechanical pain threshold or percussion sensitivity) was found to be a positive predictor of postoperative pain in more than 15 studies.
Also noted as evidence-based predictors of postoperative pain are specific iatrogenic factors. Pulpectomy or as an alternative, pulpotomy are described as predictable means of treating endodontic emergencies. The significance and tracing of sinus tracts are also described.
The goal of an emergency visit is limited to making an accurate diagnosis and bringing the case under control symptomatically. Depending on clinical factors, incision and drainage is an important therapy in appropriate cases. Pulpectomy, pulpotomy, trephination, and occlusal reduction are reviewed as potential treatment modalities during an emergency visit.
Studies have determined that the most favorable response of periapical tissues occurred when both instrumentation and filling were short of the periapical constriction. This chapter also reviews the management of gross overfilling on the maxillary sinus and mandibular canal.