2014 | OriginalPaper | Hoofdstuk
8. Therapeutics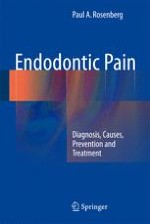 eerste hoofdstuk lezen
Auteur: DDS Paul A. Rosenberg
Uitgeverij: Springer Berlin Heidelberg
Abstract
This chapter reviews pharmacologic strategies including the use and abuse of antibiotics and analgesics. New guidelines are available to describe the indications for antibiotics. Antibiotics should be thought of as a supplement to clinical procedures in specific situations. The chapter explains why antibiotics should not be thought of as a means of "curing" an endodontic infection. The relationship of antibiotics, bacterial susceptibility, and acute abscesses is considered and evidence-based principles of antibiotic dosing are suggested.
Analgesics are presented as part of a pain-preventive (preemptive) strategy, in contrast to the historic use of analgesics only
after
a patient develops pain. Useful clinical tips include the advice that analgesics should be taken by the clock rather than only when a patient experiences pain.
Also reviewed is current evidence-based research supporting the use of a combination of acetaminophen and ibuprofen, to prevent and/or treat pain. That strategy is compared to the traditional use of narcotic agents to treat pain. Issues associated with addiction and drug overdose are also discussed.
Also discussed in this chapter is recent evidence concerning possible complications associated with the use of NSAIDs and acetaminophen in pregnant women and children as is evidence of sex bias in analgesic research.