04-04-2019 | Commentary | Uitgave 2/2019 Open Access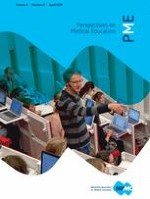 Eye tracking: the silver bullet of competency assessment in medical image interpretation?
Tijdschrift:
Auteur:

Ellen M Kok
Only measures that are grounded in theory can be meaningfully interpreted. For example, the time to first fixation of relevant information and the average length of saccades are commonly used as measures of holistic processing: Experts are thought to quickly form a holistic representation of the image, which guides their subsequent viewing behaviour. This allows them to quickly look at relevant information, whereas novices use a search-to-find approach. These two measures can thus reflect how well a resident can already form a holistic impression.
In conclusion, eye tracking could have added value for competency assessment. A large amount of literature has shown eye-tracking measures that could be markers of expertise, but universal markers of expertise are not feasible. Measures should always be chosen and interpreted in the context of a theoretical framework and specific stimulus. Furthermore, before eye tracking can be implemented for competency assessment, we need studies that detail which measures predict performance and longitudinal studies that establish in detail how they develop over time.