01-01-2015 | Review Article | Uitgave 1/2015 Open Access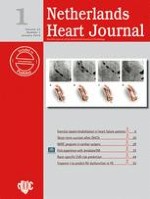 Exercise-based cardiac rehabilitation in patients with chronic heart failure: a Dutch practice guideline
Tijdschrift:
Auteurs:

R. J. Achttien, J. B. Staal, S. van der Voort, H. M. Kemps, H. Koers, M. W. A. Jongert, E. J. M. Hendriks, on behalf of the Practice Recommendations Development Group
Abstract
Rationale
To improve the quality of exercise-based cardiac rehabilitation (CR) in patients with chronic heart failure (CHF) a practice guideline from the Dutch Royal Society for Physiotherapy (KNGF) has been developed.
Guideline development
A systematic literature search was performed to formulate conclusions on the efficacy of exercise-based intervention during all CR phases in patients with CHF. Evidence was graded (1–4) according the Dutch evidence-based guideline development criteria.
Clinical and research recommendations
Recommendations for exercise-based CR were formulated covering the following topics: mobilisation and treatment of pulmonary symptoms (if necessary) during the clinical phase, aerobic exercise, strength training (inspiratory muscle training and peripheral muscle training) and relaxation therapy during the outpatient CR phase, and adoption and monitoring training after outpatient CR.
Applicability and implementation issues
This guideline provides the physiotherapist with an evidence-based instrument to assist in clinical decision-making regarding patients with CHF. The implementation of the guideline in clinical practice needs further evaluation.
Conclusion
This guideline outlines best practice standards for physiotherapists concerning exercise-based CR in CHF patients. Research is needed on strategies to improve monitoring and follow-up of the maintenance of a physical active lifestyle after supervised CR.