01-01-2015 | Original Article | Uitgave 1/2015 Open Access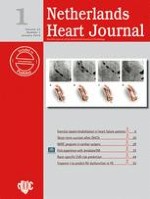 Cardiac troponin I for predicting right ventricular dysfunction and intermediate risk in patients with normotensive pulmonary embolism
Tijdschrift:
Auteurs:

K. Keller, J. Beule, A. Schulz, M. Coldewey, W. Dippold, J. O. Balzer
Belangrijke opmerkingen
The study was conducted in St. Vincenz and Elisabeth Hospital Mainz (KKM).
Abstract
Background
Right ventricular dysfunction (RVD) and cardiac troponin I (cTnI) are important tools for risk stratification in pulmonary embolism (PE). We investigate the association of RVD and cTnI in normotensive PE patients and calculate a cTnI cut-off level for predicting RVD and submassive PE.
Methods
Clinical, laboratory, radiological and echocardiagraphic data were analysed. Patients were categorised into groups with or without RVD and compared focussing on cTnI. Effectiveness of cTnI for predicting RVD and submassive PE was tested.
Results
One hundred twenty-nine normotensive PE patients, 71 with and 58 without RVD, were included. Patients with RVD were older (75.0 years (61.3/81.0) vs. 66.0 years (57.7/75.1),
P
 = 0.019). cTnI (0.06 ng/ml (0.02/0.23) vs. 0.01 ng/ml (0.00/0.03),
P
 < 0.0001) and D-dimer values (2.00 mg/l (1.08/4.05) vs. 1.23 mg/l (0.76/2.26),
P
 = 0.016) were higher in PE with RVD. cTnI was associated with RVD (OR 3.95; 95 % CI 1.95–8.02,
p
 = 0.00014). AUC for cTnI diagnosing RVD was 0.79, and for submassive PE0.87. Cut-off values for cTnI predicting RVD and submassive PE were 0.01 ng/ml, with a negative predictive value of 73 %. cTnI was positively correlated with age, D-dimer and creatinine.
Conclusions
In normotensive PE patients, cTnI is helpful for risk stratification and excluding RVD. cTnI elevation is correlated with increasing age and reduced kidney function.