14-07-2019 | Empirical Research | Uitgave 9/2019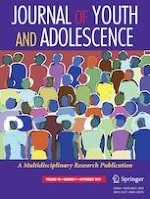 Evaluating the Short-term Impact of Media Aware Parent, a Web-based Program for Parents with the Goal of Adolescent Sexual Health Promotion
Tijdschrift:
Auteurs:

Tracy M. Scull, Christina V. Malik, Elyse M. Keefe, Alexander Schoemann
Belangrijke opmerkingen
Publisher's note:
Springer Nature remains neutral with regard to jurisdictional claims in published maps and institutional affiliations.
Abstract
Parents can significantly impact their adolescent child's sexual and relationship decision-making, yet many parents are not effectively communicating with their teens about these topics. Media are sexual socialization agents for adolescents, which can encourage early or risky sexual activity.
Media Aware Parent
is a web-based program for parents of adolescents that was designed to improve adolescent sexual health by providing parents with the skills to have high-quality communication with their child about sex and relationships as well as to mediate their media usage. This web-based randomized controlled trial was conducted in 2018–2019 with parent-child pairs (grades 7, 8, or 9;
N
 = 355) from across the United States. Parent participants identified as mostly female (75%), white/Caucasian (74%); and non-Hispanic (92%). The youth sample was more balanced in terms of gender (45% female) and more diverse with respect to race (66% white) and ethnicity (86% non-Hispanic). Twenty-eight percent of the families identified as a single parent household, and 35% of the youth were eligible for free school lunch. The present study assessed the short-term effects of
Media Aware Parent
on parent–adolescent communication, adolescent sexual health outcomes, and media-related outcomes across a one-month timeframe. Parents were randomly assigned to the intervention (
Media Aware Parent
) or active control group (online access to medically-accurate information on adolescent sexual health). The intervention improved parent–adolescent communication quality as rated by both parents and youth. Youth were more likely to understand that their parent did not want them to have sex at this early age. Youth reported more agency over hook-ups, more positive attitudes about sexual health communication and contraception/protection, and more self-efficacy to use contraception/protection, if they decide to have sexual activity. The intervention improved media literacy skills in both parents and youth, and resulted in youth being more aware of family media rules. Parents gave overwhelming positive feedback about
Media Aware Parent
. The results from this pretest-posttest study provide evidence that
Media Aware Parent
is an effective web-based program for parents seeking to enhance parent–adolescent communication and media mediation, and positively impact their adolescents' sexual health outcomes.