31-10-2016 | Uitgave 5/2017 Open Access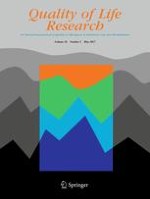 Employing quality control and feedback to the EQ-5D-5L valuation protocol to improve the quality of data collection
Tijdschrift:
Auteurs:

Fredrick Dermawan Purba, Joke A. M. Hunfeld, Aulia Iskandarsyah, Titi Sahidah Fitriana, Sawitri S. Sadarjoen, Jan Passchier, Jan J. V. Busschbach
Belangrijke opmerkingen
This study was sponsored by an unrestricted grant from EuroQol Group and through a PhD scholarship from the Directorate General of Higher Education of Indonesia (
http://​www.​ristek.​go.​id
) for FDP.
Abstract
Objectives
In valuing health states using generic questionnaires such as EQ-5D, there are unrevealed issues with the quality of the data collection. The aims were to describe the problems encountered during valuation and to evaluate a quality control report and subsequent retraining of interviewers in improving this valuation.
Methods
Data from the first 266 respondents in an EQ-5D-5L valuation study were used. Interviewers were trained and answered questions regarding problems during these initial interviews. Thematic analysis was used, and individual feedback was provided. After completion of 98 interviews, a first quantitative quality control (QC) report was generated, followed by a 1-day retraining program. Subsequently individual feedback was also given on the basis of follow-up QCs. The Wilcoxon signed-rank test was used to assess improvements based on 7 indicators of quality as identified in the first QC and the QC conducted after a further 168 interviews.
Results
Interviewers encountered problems in recruiting respondents. Solutions provided were: optimization of the time of interview, the use of broader networks and the use of different scripts to explain the project's goals to respondents. For problems in interviewing process, solutions applied were: developing the technical and personal skills of the interviewers and stimulating the respondents' thought processes. There were also technical problems related to hardware, software and internet connections. There was an improvement in all 7 indicators of quality after the second QC.
Conclusion
Training before and during a study, and individual feedback on the basis of a quantitative QC, can increase the validity of values obtained from generic questionnaires.