01-04-2014 | Nascholing | Uitgave 4/2014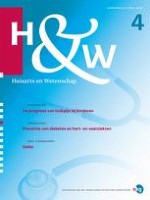 Elektrocardiografie in de huisartsenpraktijk
Tijdschrift:
Auteurs:

Lia Chan, Robert Willemsen, dr. Karen Konings
Belangrijke opmerkingen
Huisartsenpraktijk Chan, Oostdorpseweg 45, 3176 PL Poortugaal: C.M. Chan-van der Vorm, huisarts en kaderhuisarts hart- en vaatziekten i.o. Universiteit Maastricht. School for Public Health and Primary Care (CAPHRI), vakgroep Huisartsgeneeskunde, Maastricht: R.T.A. Willemsen, huisarts-onderzoeker en kaderhuisarts hart- en vaatziekten; dr. K.T.S. Konings, huisarts, co-coördinator kaderopleiding Hart- en vaatziekten • Correspondentie: liachan.kaderartsHVZ@gmail.com • Mogelijke belangenverstrengeling: niets aangegeven.
Samenvatting
Chan CM, Willemsen RTA, Konings KTS. Elektrocardiografie in de huisartsenpraktijk. Huisarts Wet 2014:57(4):196–200.
Het elektrocardiogram (ECG) wordt in de huisartsenpraktijk tamelijk veel gebruikt. Nut en nauwkeurigheid hangen echter sterk af van de indicatie: vaak is een ECG alleen nuttig als het tijdens de klachten gemaakt wordt en voor sommige indicaties is het helemaal niet nuttig. In deze nascholing worden de belangrijkste indicaties en valkuilen besproken.
Er zijn vijf nuttige indicaties voor een ECG in de huisartsenpraktijk. (1) Bij patiënten met een irregulaire pols of andere symptomen die kunnen wijzen op atriumfibrilleren is een ECG altijd geïndiceerd om de diagnose te bevestigen. Het is nuttig om bij iedere bloeddrukmeting ook de pols te beoordelen en als deze irregulair is eventueel een ECG te maken. (2) Als een patiënt klachten heeft die een ritmestoornis doen vermoeden, kan een ECG de stoornis aantonen of uitsluiten, maar alleen op het moment dat de klachten optreden. (3) Bij een bradycardie is een ECG altijd geïndiceerd, als het uitvoerbaar is. (4) Bij stabiele angina pectoris kan een rust-ECG prognostische informatie geven en/of als uitgangspunt dienen voor een inspanningstest. (5) Bij een vermoeden van hartfalen kan een normaal ECG de diagnose uitsluiten en kan een afwijkend ECG helpen bij het opsporen van het onderliggend lijden. In een latere fase kan het ECG helpen bij het opsporen van progressie of van een nieuw onderliggend lijden.
Een verdenking op een acuut coronair syndroom (ACS) is geen indicatie voor een ECG, omdat een normaal ECG een ACS niet uitsluit. Bij onverklaarde plotse hartdood is een ECG bij de familieleden, met ander aanvullend onderzoek, een taak voor de tweede en niet voor de eerste lijn.
Screenend ECG-onderzoek bij patiënten met hypertensie of in het kader van cardiovasculaire preventie heeft weinig zin, in weerwil van wat diverse internationale richtlijnen zeggen. Ook het screenen van sporters in de huisartsenpraktijk is af te raden: dat het fatale aandoeningen tijdig helpt opsporen is niet bewezen, en een foutpositieve uitslag kan huisarts en sporter voor grote dilemma's stellen.