01-12-2013 | Beschouwing | Uitgave 12/2013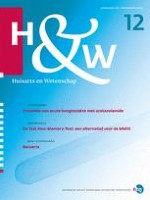 Eigen overtuiging leidend bij groepsbegeleiders
Tijdschrift:
Auteur:

Thea van Roermund
Belangrijke opmerkingen
Radboud UMC, afdeling Eerstelijnsgeneeskunde, Geert Grooteplein 21, 6525 EZ Nijmegen: dr. T. van Roermund, onderwijskundige, onderzoeker • Correspondentie: thea.vanroermund@radboudumc.nl • Mogelijke belangenverstrengeling: niets aangegeven.
Samenvatting
Van Roermund T. Eigen overtuiging leidend bij groepsbegeleiders. Huisarts Wet 2013;56(12):622-5.
De afgelopen jaren is in een aantal huisartsenopleidingen onderzoek gedaan naar de professionele ontwikkeling van docenten die het postacademische terugkomdagonderwijs verzorgen. Een van de doelen van dit onderzoek was om na te gaan of en op welke wijze de professionele ontwikkeling wordt beïnvloed door het aanbieden en voorhouden van spiegels, zoals een docentcompetentieprofiel, aiosevaluaties en feedback. Uitgangspunt vormden hedendaagse onderwijskundige theorieën over het leerproces van professionals, die ervan uitgaan dat dergelijke spiegels de zelfsturing van hoogopgeleide professionals stimuleren. In het proces van zelfsturing hebben deze spiegels een functie bij de zogeheten 'self-informed assessment', dat wil zeggen bij het monitoren van de ontwikkeling van eigen competenties. De vraag is of dat ook zo werkt. In deze beschouwing ga ik in op de wijze waarop docenten omgaan met de spiegels die hen worden voorgehouden en het beeld dat zij daarin zien.