28-11-2018 | Original Article | Uitgave 1/2019 Open Access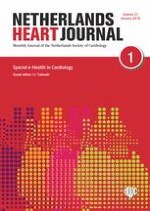 Effectiveness of web-based personalised e‑Coaching lifestyle interventions
Tijdschrift:
Auteurs:

H. Yousuf, R. Reintjens, E. Slipszenko, S. Blok, G. A. Somsen, I. I. Tulevski, L. Hofstra
Abstract
Introduction
Interventions to reduce the impact of modifiable risk factors, such as hypercholesterolaemia, smoking, and overweight, have the potential to significantly decrease the cardiovascular disease burden. The majority of the global population is unaware of their own risk of developing cardiovascular disease. Parallel to the lack of awareness, a rise in obesity and diabetes is observed. e‑Health tools for lifestyle improvement have shown to be effective in changing unhealthy behaviour. In this study we report on the results of three different trials assessing the effectiveness of MyCLIC, an e‑Coaching lifestyle intervention tool.
Methods
From 2008 to 2016 we conducted three trials: 1) HAPPY NL: a prospective cohort study in the Netherlands, 2) HAPPY AZM: a prospective cohort study with employees of Maastricht UMC+ and 3) HAPPY LONDON: a single-centre, randomised controlled trial with asymptomatic individuals who have a high 10-year CVD risk.
Results
HAPPY NL and HAPPY AZM showed that e‑Coaching reduced cardiovascular risk. Both prospective trials showed a 20–25% relative reduction in 10-year cardiovascular disease risk. A lesser effect was seen in the HAPPY LONDON trial. A low frequency of logins suggests a low degree of content engagement in the e‑Coaching group, which could be age related as the mean age of the participants in the HAPPY LONDON study was high.
Conclusion
e-Coaching using MyCLIC is a low cost and effective method to perform lifestyle interventions and has the potential to reduce the 10-year cardiovascular disease risk.