17-10-2016 | Original Article - E‑Learning | Uitgave 1/2017 Open Access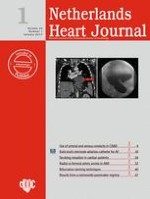 Effective contact and outcome after pulmonary vein isolation in novel circular multi-electrode atrial fibrillation ablation
Tijdschrift:
Auteurs:

P. Gal, T. J. Buist, J. J. J. Smit, A. Adiyaman, A. R. Ramdat Misier, P. P. H. M. Delnoy, A. Elvan
Belangrijke opmerkingen
P. Gal and T. J. Buist contributed equally and should be considered joint first authors.
Abstract
Introduction
Pulmonary vein (PV) reconnection is frequently the cause of recurrence of atrial fibrillation (AF) after ablation. The second-generation gold multi-electrode ablation (Gold-MEA) catheter has a new design possibly resulting in improved lesion formation compared with its predecessor. We aimed to determine the association between effective radiofrequency applications with the Gold-MEA catheter and outcome after AF ablation.
Methods
50 consecutive patients with paroxysmal AF underwent Gold-MEA (PVAC GOLDTM, Medtronic Inc.) ablation. The Gold-MEA catheter was navigated to the PV ostium by fluoroscopy. Duty-cycled radiofrequency ablations were performed at all PV ostia. Lesions were considered transmural when electrode temperature was >50 °C and power >3 W for >30 seconds. After the ablation procedure, patients visited the outpatient clinic at 3‑month intervals including 24-hour Holter ECGs.
Results
Mean age was 56 years. All PVs were acutely isolated with the Gold-MEA catheter. Procedure time was 111 ± 22 minutes, ablation time was 24 ± 6.7 minutes and fluoroscopy time was 20 ± 8.1 minutes. No procedure-related complications were observed. One year after ablation, 60 % of patients were still free of arrhythmia recurrences after a single PV isolation attempt. The number of transmural lesions was associated with arrhythmia-free survival: 25.0 % in <72 transmural lesions, 64.3 % in 72–108 transmural lesions and 71.4 % in >108 transmural lesions (
p
= 0.029).
Conclusion
PV isolation can be performed successfully with the Gold-MEA catheter, with a favourable safety profile. Transmurality of lesions was associated with ablation success and may improve AF ablation success.