09-02-2019 | Uitgave 8/2019 Open Access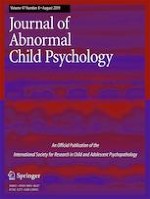 Does Less Optimal Nonverbal Communication with Peers Predict the Development of Depression in Adolescent Boys and Girls?
Tijdschrift:
Auteurs:

Yolanda van Beek, Anne Berg
Belangrijke opmerkingen
Publisher's Note
Springer Nature remains neutral with regard to jurisdictional claims in published maps and institutional affiliations.
Abstract
A Social Skills Deficit Model for depression in adolescence was tested, proposing that less optimal nonverbal behavior elicits negative reactions in peer partners, which in turn result in depressive symptoms. Adolescents (12–17 years of age) participated in videotaped same-sex interactions. Several positive and negative nonverbal behaviors were coded. Two analyses were conducted using longitudinal data collected in four waves. First, the predictive role of nonverbal communication for depressive symptoms was tested in a normative sample of 170 adolescent dyads without (mild) depression at wave 1 (48% girls). Second, in a subsample of 31 adolescents who developed (sub)clinical depression in wave 2–4, behaviors during peer interactions prior to the development of depression were compared with behaviors of 31 matched controls that did not show mild depression in any wave (55% girls). Only gazing behavior showed the expected relationships. In girls, less gazing in targets was related to less gazing in peers, and if this response occurred, it subsequently predicted later depressive symptoms of targets. The importance of gazing behavior was confirmed in the (sub)clinical sample where girls, prior to increases in depressive symptoms, gazed less and boys gazed more as compared to controls. Interaction partners of these girls and boys also responded with less gazing. The findings indicate that nonverbal social skills are related to the development of depression in youth, particularly in girls.