02-07-2020 | Uitgave 2/2021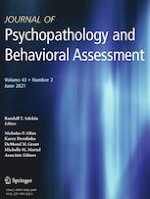 Diagnostic Accuracy of the French Version of the Adult Attention Deficit / Hyperactivity Disorder Self-Report Screening Scale for DSM-5 (ASRS-5)
Auteurs:

Stéphanie Baggio, Sophie Bayard, Clémence Cabelguen, Martin Desseilles, Marie Gachet, Charlotte Kraemer, Hélène Richard-Lepouriel, Rosetta Nicastro, Stéphanie Bioulac, Anne Sauvaget, Sébastien Weibel, Nader Perroud, Régis Lopez
Belangrijke opmerkingen
Electronic supplementary material
Nader Perroud and Régis Lopez contributed equally to this work.
Publisher's Note
Springer Nature remains neutral with regard to jurisdictional claims in published maps and institutional affiliations.
Abstract
Attention Deficit/Hyperactivity Disorder (ADHD) often persists into adulthood. However, few screening tools have been adapted to assess adult ADHD using the DSM-5 criteria. This study assessed the diagnostic accuracy of a French version of the ADHD Self-Report Screening for DSM-5 (ASRS-5). This multicentric cross-sectional study included 557 participants: 309 adult ADHD outpatients without bipolar disorder (BD)/borderline personality disorder (BPD) (
n
 = 236) or with BD/BPD (
n
 = 36) and 285 adults without ADHD who were either healthy volunteers (
n
 = 248) or outpatients with BD or BPD (
n
 = 37). Measures included ADHD diagnosis and the ASRS-5. The ASRS-5 was a good predictor of ADHD diagnosis (cut-off score ≥ 13/24: sensitivity = 84.3%, specificity = 91.9%) in the sample of adult outpatients without comorbid disorders/healthy controls. Performances were lower with this cut-off score in some subgroups, notably low-severity ADHD symptomatology (sensitivity = 63.5%) and participants with BD or BPD (sensitivity = 91.7%, specificity = 54.1%). The French ASRS-5 had acceptable screening properties, even if its performance varied according to clinical variables. Further evidence is needed for patients with comorbid disorders having overlapping symptoms.