01-12-2013 | Wetenschap | Uitgave 8/2013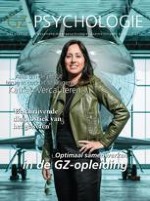 De psychometrische eigenschappen van de Hetero-Anamnestische Persoonlijkheidsvragenlijst (HAP) bij ouderen in de ggz en het verpleeghuis
Tijdschrift:
Auteurs:

H.P.J. Barendse, A.J.C. Thissen, Prof. dr. G. Rossi, Prof. dr. T.I. Oei, Prof. dr. S.P.J. van Alphen
Belangrijke opmerkingen
H.P.J. (Harry) Barendse, gz-psycholoog, Psychologenpraktijk Barendse & Thissen, Schijndel. Correspondentieadres: harry@psyschijndel.nl
A.J.C. (Toine) Thissen, gz-psycholoog, Psychologenpraktijk Barendse & Thissen, Schijndel
Prof. dr. G. (Gina) Rossi, Vakgroep Klinische en Levenslooppsychologie, Vrije Universiteit Brussel
Prof. dr. T.I. (Karel) Oei, Department of Criminal Law, Tilburg University
Prof. dr. S.P.J. (Bas) van Alphen, bijzonder hoogleraar Klinische ouderenpsychologie, Vrije Universiteit Brussel, en gz-psycholoog, GGZ Mondriaan Ouderen, locatie Heerlen
Eerder gepubliceerd onder de titel "Psychometric properties of an informant personality questionnaire (the HAP) in a sample of older adults in the Netherlands and Belgium," HPJ Barendse e.a., Aging & Mental Health, vol. 17:5, (2013), pp. 623-9. Vertaling en publicatie met toestemming van de uitgever Taylor & Francis Ltd.
Samenvatting
Achtergrond:
In de ouderenpsychiatrie is het gebruik van informantenrapportage belangrijk vanwege de veel voorkomende cognitieve tekorten. De patiënt is daardoor soms niet in staat om vragen adequaat te beantwoorden. Er bestaan echter weinig persoonlijkheidsvragenlijsten voor informanten. De Hetero-Anamnestische Persoonlijkheidsvragenlijst (HAP) is daarom speciaal voor dat doel ontwikkeld. In deze studie zijn de psychometrische eigenschappen van de HAP bij oudere volwassenen in Nederland en België onderzocht.
Methode:
De interne consistentie, geslachtsverschillen, de test-hertestbetrouwbaarheid en de interbeoordelaarsbetrouwbaarheid, de factorstructuur en de concurrente validiteit werden empirisch geëvalueerd. Informanten beoordeelden op de HAP de premorbide persoonlijkheid van verpleeghuisbewoners (n=385) en oudere psychiatrische patiënten (n=204).
Resultaten:
De interne consistentie van de schalen is goed. In de populatie Psychiatrie werden op drie schalen matige geslachtsverschillen gevonden. De test-hertestbetrouwbaarheid en de interbeoordelaarsbetrouwbaarheid zijn goed tot uitstekend. Er bestaan significante overeenkomsten tussen een aantal HAP-schalen en dimensies van de Big Five.
De congruentie tussen de factorstructuren van beide steekproeven is erg hoog. De drie onderliggende factoren zijn Externaliserend/antagonistisch, Internaliserend/neurotisch en Compulsief.
Conclusies:
De HAP komt tegemoet aan de behoefte aan valide en betrouwbare instrumenten voor persoonlijkheidsonderzoek bij ouderen met behulp van informanten. De tien inhoudsschalen meten kenmerken van de premorbide persoonlijkheid. Twee controleschalen corrigeren de uitkomsten voor positieve en negatieve beoordelingstendensen van de informant. Omdat de patiënt door afname van de vragenlijst niet belast wordt, is de HAP uitermate geschikt voor persoonlijkheidsonderzoek en behandeldiagnostiek bij ouderen. Daarnaast kan de vragenlijst benut worden voor wetenschappelijk onderzoek op het gebied van persoonlijkheid op oudere leeftijd. Vervolgonderzoek naar de criteriumvaliditeit is aangewezen.