01-07-2017 | Onderzoek | Uitgave 6/2017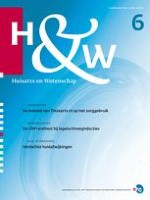 De invloed van Thuisarts.nl op het zorggebruik
Tijdschrift:
Auteurs:

Wouter Spoelman, Dr. Tobias Bonten, Dr. Margot de Waal, Dr. Ton Drenthen, Dr. Ivo Smeele, Dr. Mark Nielen
Belangrijke opmerkingen
LUMC, afdeling Public Health en Eerstelijns Geneeskunde, Leiden: W.A. Spoelman, arts, promovendus eHealth; dr. T.N. Bonten, huisarts-in-opleiding, epidemioloog, postdoc onderzoeker; dr. M.W.M. de Waal, epidemioloog; prof.dr. N.H. Chavannes, huisarts, hoogleraar Huisartsgeneeskunde. Nederlands Huisartsen Genootschap, Utrecht: dr. A.J.M. Drenthen, socioloog; dr. I.J.M. Smeele, huisarts, hoofdredacteur H&W. NIVEL Nederlands instituut voor onderzoek van de gezondheidszorg, afdeling Eerstelijns Geneeskunde, Utrecht: dr. M.M.J. Nielen, epidemioloog, senior onderzoeker Zorgregistraties eerste lijn • Correspondentie: t.n.bonten@lumc.nl • Mogelijke belangenverstrengeling: niets aangegeven.
Samenvatting
Spoelman WA, Bonten TB, De Waal MWM, Drenthen T, Smeele IJM, Nielen MJM, Chavannes NH. De invloed van Thuisarts.nl op het zorggebruik. Huisarts Wet 2017;60(6):260-3.
Achtergrond
Patiënten zoeken vaak online naar informatie over hun ziekte. In theorie kan betrouwbare gezondheidsinformatie het zorggebruik verminderen, maar bewezen is dat niet. Wij onderzochten of de website Thuisarts.nl in de eerste jaren na de lancering geleid heeft tot een afname van het zorggebruik in de Nederlandse huisartsenpraktijk.
Methode
We voerden een onderbroken-tijdreeksanalyse uit op gegevens van de NIVEL Zorgregistratie eerste lijn, die gemiddeld 230 huisartsen betroffen. Het onderzoek was opgezet als 'natuurlijk experiment' over de periode 2009-2014, van drie jaar vóór tot drie jaar ná de lancering van Thuisarts.nl. Onze primaire uitkomstmaat was een mogelijke trendverandering in het aantal consulten per 1000 patiënten per maand. Daarbij vormden we een controlegroep met onderwerpen waarover Thuisarts.nl geen informatie gaf of weinig geraadpleegd werd. We voerden subgroepanalyses uit voor geslacht, leeftijd sociaal-economische status en type consult (enkel, dubbel, telefonisch).
Resultaten
Het aantal consulten daalde na de lancering van Thuisarts.nl met –1,620 per 1000 patiënten per maand, wat twee jaar na de lancering neerkomt op een afname van 12% ten opzichte van de ongewijzigde trend. In de controlegroep zagen we geen trendbreuk. Uit de subgroepanalyse bleek dat vooral het aantal telefonische consulten daalde en dat die daling zich voordeed in alle welstandsklassen en op alle leeftijden, behalve bij kinderen onder de 16 jaar.
Conclusie
Na de lancering van Thuisarts.nl is het zorggebruik in de huisartsenpraktijk afgenomen, vooral het aantal telefonische consulten.