01-12-2003 | Artikelen | Uitgave 6/2003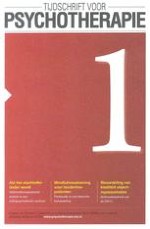 Criteria voor herstel bij patiënten met een eetstoornis
Tijdschrift:
Auteur:

Greta Noordenbos
Belangrijke opmerkingen
dr. greta noordenbos
is als universitair docent verbonden aan de departementen klinische psychologie en vrouwenstudies van de Universiteit Leiden. Correspondentieadres: Klinische en Gezondheidspsychologie, Universiteit Leiden, Wassenaarseweg 52, 2333 AK Leiden
Criteria for recovery from eating disorders
Contrary to the agreement on the diagnostic criteria for eating disorders (ED) as mentioned in the DSM-IV, no consensus exists on criteria for recovery from eating disorders. As a result, outcome and effect studies are often hard to compare. The goal of this study is to establish a useful list of criteria for recovery from eating disorders, to be used by therapists and researchers evaluating the extent of recovery. From a review of the literature we established a list of 52 possible criteria. It concerns recovery criteria for eating behavior, bodily experience, physical functioning, psychological functioning, emotional development and social contacts. Therapists of ED patients (N=57) were asked to select the criteria they found important for recovery from eating disorders and to indicate to what extent their last treated
anorexia
(N=42) and
boulimia
patients (N=45) met these criteria at the end of their treatments. Therapists working in private practice (N=19) were compared with therapists working in a specialized setting on an in- and outpatient basis (N=38).
Samenvatting
Terwijl over de diagnostische criteria voor eetstoornissen, zoals vermeld in de DSM-IV, grote overeenstemming bestaat, ontbreekt consensus over de criteria voor herstel van eetstoornissen. Hierdoor zijn onderzoeksresultaten vaak moeilijk te vergelijken. Doel van dit onderzoek is een bruikbare lijst op te stellen van herstelcriteria voor eetstoornissen, waarmee behandelaars en onderzoekers kunnen evalueren in welke mate er sprake is van herstel. Op basis van literatuuronderzoek is een lijst met 52 mogelijke criteria voor herstel van eetstoornissen opgesteld.