01-01-2012 | Original article | Uitgave 1/2012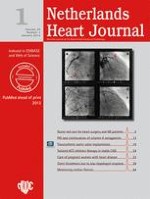 Continuation of vitamin K antagonists as acceptable anticoagulation regimen in patients undergoing pulmonary vein isolation
Tijdschrift:
Auteurs:

B. Oude Velthuis, J. Stevenhagen, J. M. van Opstal, M. F. Scholten
Abstract
Background
Recent studies have demonstrated that radiofrequency isolation of the pulmonary veins (PVI) is an effective treatment for symptomatic atrial fibrillation. Based on these positive results, non- pharmacological therapy has been incorporated in the guidelines for drug refractory atrial fibrillation, resulting in an increased popularity. The prevention of thromboembolic complications remains an important issue.
Methods
In January 2010, we adopted an anticoagulation strategy based on continuation of vitamin K antagonists (VKAs) and selective use of transoesophageal echocardiogram (TEE). We retrospectively analysed the results of this strategy in all patients referred for PVI treatment. VKAs were started for all patients 2 months prior to treatment. Discontinuation of oral anticoagulation was considered 3 months after treatment based on thromboembolic and bleeding risk profile. Bleeding and thromboembolic complications were registered during outpatient clinic follow-up up until 3 months.
Results
We performed 151 PVI procedures from January 2010 to March 2011. All patients were seen 6 weeks after discharge. No transient ischaemic accidents or ischaemic cerebrovascular incidents occurred pre-, peri- or postprocedure. Four (2.7%) procedures were complicated by tamponade requiring pericardiocentesis.
Conclusions
Our data support the increasing evidence for continuation of periprocedural administration of VKAs complemented by a selective TEE approach as a safe therapy for thromboembolic complications.