12-08-2020 | Eye-Opener | Uitgave 5/2020 Open Access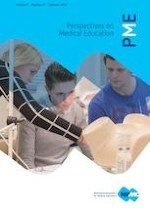 Considerations for using race and ethnicity as quantitative variables in medical education research
Tijdschrift:
Auteurs:

Paula T. Ross, Tamera Hart-Johnson, Sally A. Santen, Nikki L. Bibler Zaidi
Background
Conclusion
Our intent is not to recommend the discontinuation of the use of race and ethnicity variables from medical education research, but rather to challenge researchers to use these variables more intentionally and in their proper context. Education researchers should acknowledge the limitations surrounding race and ethnicity as described with these recommendations. As racial and ethnic categories remain fluid amid changing demographic patterns and sociopolitical perspectives, it is critical that research acknowledges the underlying implications that accompany these variables. How race and ethnicity are conceptualized, operationalized, categorized, and interpreted in research will impact both the intentional and unintentional conclusions drawn from the results. We urge a more thoughtful and systematic use of these concepts to provide results that will inform, rather than adversely impact, ongoing issues in medical education as well as larger society.
Conflict of interest
P.T. Ross, T. Hart-Johnson, S.A. Santen and N.L. B. Zaidi declare that they have no competing interests.
Open Access
This article is licensed under a Creative Commons Attribution 4.0 International License, which permits use, sharing, adaptation, distribution and reproduction in any medium or format, as long as you give appropriate credit to the original author(s) and the source, provide a link to the Creative Commons licence, and indicate if changes were made. The images or other third party material in this article are included in the article's Creative Commons licence, unless indicated otherwise in a credit line to the material. If material is not included in the article's Creative Commons licence and your intended use is not permitted by statutory regulation or exceeds the permitted use, you will need to obtain permission directly from the copyright holder. To view a copy of this licence, visit
http://​creativecommons.​org/​licenses/​by/​4.​0/​
.