2014 | OriginalPaper | Hoofdstuk
9. Complications in Root-End Management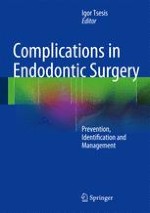 eerste hoofdstuk lezen
Auteurs: DDS, PhD Stefano Corbella, BSc, PhD Massimo Del Fabbro, DMD Eyal Rosen, MD, DDS Silvio Taschieri
Uitgeverij: Springer Berlin Heidelberg
Abstract
Root-end management is a fundamental part of endodontic surgery. It involves a root resection, preparation for the root-end cavity, and obturation of the apical root canal. This phase is critical for the resolution of the periapical pathosis, allowing periradicular tissue regeneration including the formation of a new attachment apparatus.
The management of the root end can be divided into different phases (apex resection, retrograde cavity preparation, and apical sealing). In each phase, several complications can occur due to inadequate planning of the procedure, inappropriate technique, or anatomical characteristics of the site. The success of the entire endodontic surgery may be severely influenced by the occurrence of an adverse event during the root-end management.
Complication prevention and early identification can allow an adequate management of such event, allowing a successful procedure.