2014 | OriginalPaper | Hoofdstuk
8. Periapical Osteotomy and Curettage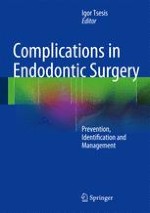 eerste hoofdstuk lezen
Auteurs: DMD Igor Tsesis, DMD Eyal Rosen
Uitgeverij: Springer Berlin Heidelberg
Abstract
Periapical osteotomy in endodontic surgery is aimed to provide adequate access for a proper surgical management of the apical part of the root. The osteotomy should be as small as possible but as large as necessary to accomplish the endodontic clinical objectives. Therefore, it is prudent to balance between the surgical needs and the case specific limitations, in order to achieve predictable clinical results with minimal associated risks for the patient.
Osteotomy produces heat depending on the drill design, the drilling technique, and the bone structure. Osteotomy based on light brushing motions using sharp high-speed burr, and copious irrigation, may prevent the risk of thermal osteonecrosis.
The possible damage to adjacent teeth during surgery varies from slight surface shaving to a complete root resection. Adjacent teeth should be evaluated before endodontic surgery. In case of damage to adjacent tooth during surgery, the tooth should be closely monitored, and in case of developing signs of pulp necrosis, root canal treatment should be performed.
Periapical curettage may jeopardize adjacent anatomical structures. Early curettage may also result in intraoperative excessive bleeding, and the final thorough curettage can be postponed to the end of the procedure when judged necessary.