11-01-2016 | Original Article - Design Study Article | Uitgave 3/2016 Open Access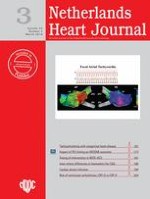 Characteristics of cardiac device infections in the Isala Hospital; a large volume tertiary care cardiology centre
Tijdschrift:
Auteurs:

R. Steenmeijer, A. Adiyaman, F. Demirel, H. C. F. Schram, J. J. J. Smit, P. P. H. M. Delnoy, A. R. Ramdat Misier, A. Elvan
Abstract
Aims
To determine the frequency, characteristics and risk factors of cardiac device infections in the Isala Hospital.
Methods
We retrospectively studied all patients who underwent cardiac device procedures performed in the cardiac catheterisation lab and the operating room from 2010 to 2012. All patients who developed a cardiac device infection were reviewed for its characteristics.
Results
31/2026 patients developed a cardiac device infection (1.5 %). One (3.2 %) patient died within 30 days of hospitalisation. Device infection rates for procedures in the catheterisation lab and operating room were similar (
p
 = 0.60). Positive cultures were present in 27/31 (87 %) cases. These consisted predominantly of micro-organisms that are part of the skin flora (84 %). The mean time between device procedure and infection was 14 ± 21 months (range 0–79). Cardiac device infection was significantly associated with device revision, (65 % were revisions in patients with device infection vs. 30 % revisions in patients without device infection,
p
 = 0.011) and placement of a left ventricular lead in pacemaker implantations (59 % of patients with vs. 51 % of patients without device infection,
p
 < 0.001).
Conclusion
The frequency of cardiac device infection was 1.5 % with a mortality of 3.2 % within 30 days, which is lower compared with other registries. Cardiac device infections were associated with device revisions and placement of left ventricular leads in pacemaker implantations.