11-01-2016 | Original Article - ICIN | Uitgave 3/2016 Open Access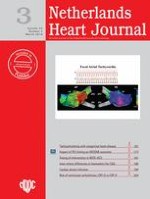 The ethnicity-specific association of biomarkers with the angiographic severity of coronary artery disease
Tijdschrift:
Auteurs:

C. M. Gijsberts, A. Seneviratna, I. E. M. Bank, H. M. den Ruijter, F. W. Asselbergs, P. Agostoni, J. A. Remijn, G. Pasterkamp, H. C. Kiat, M. Roest, A. M. Richards, M. Y. Chan, D. P. V. de Kleijn, I. E. Hoefer
Belangrijke opmerkingen
A. Seneviratna and I.E.M. Bank contributed equally to this work.
Abstract
Background
Risk factor burden and clinical characteristics of patients with coronary artery disease (CAD) differ among ethnic groups. We related biomarkers to CAD severity in Caucasians, Chinese, Indians and Malays.
Methods
In the Dutch-Singaporean UNICORN coronary angiography cohort (
n
 = 2033) we compared levels of five cardiovascular biomarkers: N-terminal pro-brain natriuretic peptide (NTproBNP), high-sensitivity C-reactive protein (hsCRP), cystatin C (CysC), myeloperoxidase (MPO) and high-sensitivity troponin I (hsTnI). We assessed ethnicity-specific associations of biomarkers with CAD severity, quantified by the SYNTAX score.
Results
Adjusted for baseline differences, NTproBNP levels were significantly higher in Malays than in Chinese and Caucasians (72.1 vs. 34.4 and 41.1 pmol/l,
p
 < 0.001 and
p
 = 0.005, respectively). MPO levels were higher in Caucasians than in Indians (32.8 vs. 27.2 ng/ml,
p
 = 0.026), hsTnI levels were higher in Malays than in Caucasians and Indians (33.3 vs. 16.4 and 17.8 ng/l,
p
 < 0.001 and
p
 = 0.029) and hsTnI levels were higher in Chinese than in Caucasians (23.3 vs. 16.4,
p
 = 0.031). We found modifying effects of ethnicity on the association of biomarkers with SYNTAX score. NTproBNP associated more strongly with the SYNTAX score in Malays than Caucasians (β 0.132 vs. β 0.020 per 100 pmol/l increase in NTproBNP,
p
 = 0.032). For MPO levels the association was stronger in Malays than Caucasians (β 1.146 vs. β 0.016 per 10 ng/ml increase,
p
 = 0.017). Differing biomarker cut-off levels were found for the ethnic groups.
Conclusion
When corrected for possible confounders we observe ethnicity-specific differences in biomarker levels. Moreover, biomarkers associated differently with CAD severity, suggesting that ethnicity-specific cut-off values should be considered.