11-02-2016 | Original Article | Uitgave 4/2016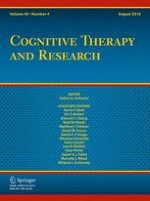 Catastrophic Thinking: A Transdiagnostic Process Across Psychiatric Disorders
Tijdschrift:
Auteurs:

Resham Gellatly, Aaron T. Beck
Abstract
Since the description of catastrophizing by Ellis (Reason and emotion in psychotherapy. Lyle Stuart, Oxford,
1962
) as a general factor in psychopathology, numerous studies have explored this construct and its association with many common disorders. This paper investigates the role of catastrophic thinking across psychiatric disorders. We conducted a comprehensive review of the literature on the role of catastrophic beliefs as a predictor and correlate of psychopathological disorders including panic, phobia, health anxiety, obsessive–compulsive disorder, posttraumatic stress disorder, pain, and traumatic brain injury. The literature suggests that catastrophic thinking has been demonstrated to play a role in a wide variety of disorders and has been a focal point for prevention and psychotherapeutic intervention. While the process of catastrophic thinking is transdiagnostic, content is unique for each disorder. We propose a model for the catastrophic cycle and discuss the utility of including catastrophic beliefs in an alternative diagnostic scheme based on cognitive theory. We offer recommendations for prevention and psychotherapeutic interventions that have targeted catastrophic thinking and led to improvement in each particular disorder. We conclude with recommendations for further research on the role of mediation, as well further investigation of disorders such as psychosis and irritable bowel syndrome, which emerging evidence suggests may be related to catastrophic beliefs.