01-08-2015 | Original Article | Uitgave 4/2015 Open Access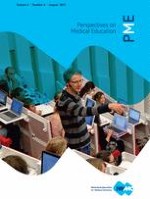 Beyond work-hour restrictions: a qualitative study of residents' subjective workload
Tijdschrift:
Auteurs:

Hiroshi Nishigori, Gautam A. Deshpande, Haruo Obara, Osamu Takahashi, Jamiu Busari, Tim Dornan
Abstract
Introduction
Following the introduction of work-hour restrictions, residents' workload has become an important theme in postgraduate training. The efficacy of restrictions on workload, however, remains controversial, as most research has only examined objective workload. The purpose of this study was to explore the less clearly understood component of subjective workload and, in particular, the factors that influenced residents' subjective workload.
Method
This study was conducted in Japan at three community teaching hospitals. We recruited a convenience sample of 31 junior residents in seven focus groups at the three sites. Audio-recorded and transcribed data were read iteratively and analyzed thematically, identifying, analyzing and reporting themes within the data and developing an interpretive synthesis of the topic.
Results
Seven factors influenced residents' subjective workload: (1) interaction within the professional community, (2) feedback from patients, (3) being in control, (4) professional development, (5) private life, (6) interest and (7) protected free time.
Discussion and conclusion
Our findings indicate that residents who have good interaction with colleagues and patients, are competent enough to control their work, experience personal development through working, have greater interest in their work, and have fulfilling private lives will have the least subjective workload.