23-08-2017 | Uitgave 1/2018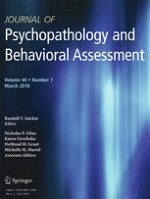 Assessing Safety Behaviors in Fear of Storms: Validation of the Storm-Related Safety Behavior Scale
Auteurs:

Kirstyn L. Krause, Emma M. MacDonald, Alasdair M. Goodwill, Valerie Vorstenbosch, Martin M. Antony
Abstract
With the exception of one self-report questionnaire assessing storm fear severity (Nelson et al.
Journal of Psychopathology and Behavioral Assessment
, 36(1), 105–114,
2014
), there are few brief published assessment tools to measure the cognitive, behavioral, and physical manifestations of storm fear. A principal feature of phobic disorders is the use of safety behaviors to alleviate distress. Safety behaviors are believed to perpetuate anxiety by preventing the disconfirmation of feared outcomes (Salkovskis
Behavioural Psychotherapy,
19(1), 6–19,
1991
). To date, no studies have examined the use of safety behaviors in storm fear. The purpose of the current research was to develop and validate the Storm-Related Safety Behavior Scale (SRSBS; Vorstenbosch and Antony
2017
), a 24-item self-report scale that measures safety behavior use in adults with a fear of storms. Two studies examined the (1) factor structure, internal consistency, validity, and test-retest reliability of the SRSBS, as well as the frequency with which specific safety behaviors were endorsed; and (2) ability of the SRSBS to differentiate between a group of adults with low and high fear of storms after exposure to a virtual thunderstorm. Factor analysis revealed that the SRSBS is best captured by one factor. Results provided preliminary evidence of convergent and discriminant validity, as well as test-retest reliability. Finally, significant group differences were found between participants with high versus low fear of storms following a virtual thunderstorm. These findings demonstrate the value of the SRSBS for assessing safety behavior use.