07-03-2017 | ORIGINAL PAPER | Uitgave 5/2017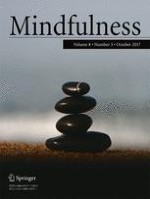 Appreciative Joy in Buddhism and Positive Empathy in Psychology: How Do They Differ?
Tijdschrift:
Auteurs:

Xianglong Zeng, Vivian YL. Chan, Tian PS. Oei, Freedom YK. Leung, Xiangping Liu
Belangrijke opmerkingen
Electronic supplementary material
The online version of this article (doi:
10.​1007/​s12671-017-0690-5
) contains supplementary material, which is available to authorized users.
Abstract
Appreciative joy, as one of the four immeasurables in Buddhism, refers to feeling happy for people, and it is cultivated by appreciative joy meditation (AJM). There is a debate regarding whether appreciative joy is conceptually the same as positive empathy (empathy for others' positive experiences); thus, this report empirically tests the similarities and differences between appreciative joy and positive empathy. Study 1 recruited a sample of 317 general participants using an online survey and evaluated the similarities and differences between the Appreciative Joy Scale (AJS) and the Positive Empathy Scale (PES) on the outcome variables of altruism, envy, and subjective well-being. Confirmatory factor analyses showed that the AJS and PES were independent of one another, and hierarchical multiple regressions indicated that AJS accounted for more variances on altruism than the PES. Study 2 recruited 119 participants in an experiment in a laboratory setting and compared the effects of AJM and the psychological operation of positive empathy in a matched setting on self-reported emotions and interpersonal attitudes. The analysis of variance (ANOVA) demonstrated that AJM generated significantly more other-focused positive emotions (e.g., love) in comparison with the positive empathy condition. These two studies supported that the concept and psychological operation of positive empathy differ from appreciative joy and AJM in Buddhism. In particular, the results in terms of altruism and other-focused positive emotions supported the conceptual analysis that appreciative joy directly involves kind intentions toward the target, whereas positive empathy does not necessarily do so.