27-03-2017 | ORIGINAL PAPER | Uitgave 5/2017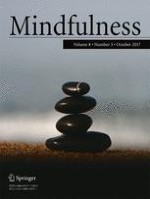 A Brief Mindfulness Intervention Is Associated with Negative Outcomes in a Randomised Controlled Trial Among Chemotherapy Patients
Tijdschrift:
Auteurs:

Lisa M. Reynolds, Ian P. Bissett, David Porter, Nathan S. Consedine
Belangrijke opmerkingen
Clinical Trial Number: Australian New Zealand Clinical Trials Registry ACTRN12613000238774.
Abstract
Emotional distress is common during chemotherapy, and supportive interventions during this time are often required. Mindfulness-based interventions appear promising amongst cancer survivors, but scant research has been conducted amongst patients undergoing acute treatment. This trial compared the efficacy of a brief mindfulness-based intervention (bMBT) with relaxation therapy on reducing distress amongst chemotherapy patients. Sixty-eight people receiving first-line chemotherapy at Auckland City Hospital were randomised to bMBT (
n
= 32) or relaxation training groups (
n
= 36). In both conditions, participants attended three 90-min weekly sessions. Overall distress (distress thermometer (DT); impact thermometer (IT)), cancer-related stress (Impact Events Scale–Cancer (IES-C)), cancer symptom distress (Memorial Symptom Assessment Scale–Short Form (MSAS-SF)) and social avoidance (SA) were assessed at enrolment, post-intervention and at 3-month follow-up. Both groups reported reductions in overall and cancer-related stress over time. Immediately post-intervention, however, bMBT (but not relaxation training) participants reported
increased
symptom distress, marginally increased social avoidance and
decreased
quality of life. So whilst overall distress and cancer distress declined in both groups, the mindfulness intervention was associated with increased symptom distress and social avoidance and reduced quality of life. This report presents a randomised controlled trial of a mindfulness-based intervention during chemotherapy and suggests that care is needed in employing mindfulness-based interventions in acute health treatment contexts.