07-04-2017 | ORIGINAL PAPER | Uitgave 5/2017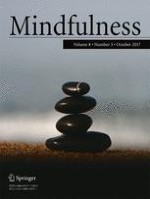 Textual Healing: Proof of Concept Study Examining the Impact of a Mindfulness Intervention on Smartphone Behavior
Tijdschrift:
Auteurs:

Leora Trub, Tyrel J. Starks
Abstract
The digital age presents particular challenges to maintaining mindfulness, which has, in turn, has been proposed as a corrective agent to various negative consequences of habitual phone use. This study examined the feasibility, acceptability, and preliminary efficacy of an app-based intervention called
Mindful Messaging
, which was developed to increase overall mindfulness as well as mindfulness related to technology use and during text-based interactions. In a sample of 29 young adults, the use of
Mindful Messaging
resulted in a statistically significant increase in self-reported mindfulness and statistically significant decreases in drunk texting, texting while walking, and having accidents while walking and texting at follow-up relative to baseline. Effects of medium size were observed across outcomes (Cohen's
d
ranged from 0.30 to 0.45). Non-significant reductions were also observed for emotional regulation difficulties, sexting and texting while driving, with small effect sizes. Participants' use of an in-the-moment intervention for composing messages revealed that in comparison to pre-intervention texts, post-intervention texts conveyed increased honesty, vulnerability, self-awareness, empathy, perspective-taking, and concern about the recipient's feelings. Feedback suggested the app was highly acceptable to users. Findings point to the potential health benefits of developing mobile interventions which induce mindfulness related to texting and other technology use.