01-08-2011 | Brief Report | Uitgave 4/2011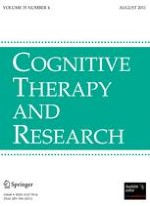 A Behavioral Index of Imagery Ability in Social Anxiety
Tijdschrift:
Auteurs:

Amanda S. Morrison, Nader Amir, Charles T. Taylor
Abstract
Individuals with social anxiety often report recurrent, distorted, negative images of themselves. However, previous research has relied exclusively on self-report methods that assess the content of these images rather than the underlying
processes
involved in image generation. Therefore, we used a validated behavioral measure to examine image generation ability in individuals with social anxiety and non-anxious controls (NACs). Participants first studied and became familiar with a set of uppercase block letters set in grids. Then participants saw a lowercase letter followed by an empty grid with a single X mark in one of the cells. Participants visualized the corresponding block letter in the grid and decided whether it would have covered the X if it were physically present. Image generation is revealed by longer response latencies for probes located on "late" relative to "early" segments of the letters. Socially anxious individuals showed slower responding to late versus early probe locations compared to the NACs, suggesting that individuals with social anxiety experience a disadvantage in generating images of neutral stimuli.