01-08-2011 | Original Article | Uitgave 4/2011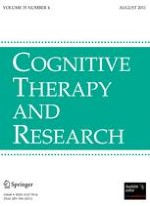 Explicit and Implicit Anxiety: Differences Between Patients with Hypochondriasis, Patients with Anxiety Disorders, and Healthy Controls
Tijdschrift:
Auteurs:

Florian Weck, Gaby Bleichhardt, Michael Witthöft, Wolfgang Hiller
Abstract
Empirical research has found comparable levels of anxiety in patients with hypochondriasis and those with various anxiety disorders. However, the majority of these investigations were based exclusively on questionnaires (Q-data). In the present study, we included the implicit association task-anxiety (IAT-anxiety; Egloff and Schmukle in J Personal Soc Psychol, 83:1441–1455
2002
) as an implicit test (T-data) of anxiety. Results showed that patients with hypochondriasis (
n
= 36) and those with anxiety disorders (
n
= 25) did not differ with respect to explicit (brief symptom inventory) or implicit measures (IAT-anxiety) of anxiety, with both groups exhibiting higher values than healthy controls (
n
= 34). For measures of hypochondriacal attributes (illness attitude scales), patients with hypochondriasis exhibited the highest values, and the values of patients with anxiety disorders lay between those of healthy controls and those of hypochondriacal patients. The results indicate a clear overlap between hypochondriasis and anxiety disorders with respect to explicit and implicit measures of anxiety.