05-04-2016 | ORIGINAL PAPER | Uitgave 4/2016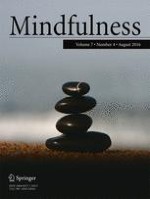 Why Being Mindful May Have More Benefits Than You Realize: Mindfulness Improves Both Explicit and Implicit Mood Regulation
Tijdschrift:
Auteurs:

Carina Remmers, Sascha Topolinski, Sander L. Koole
Abstract
Prior research has consistently observed that mindfulness facilitates emotion regulation. However, this research mainly examined explicit, self-reported emotion. Does mindfulness also facilitate regulation of implicit emotional responses? To address this question, the authors induced sadness among a group of healthy volunteers (
N =
 72), after which participants performed a mindfulness, distraction, or rumination exercise. Implicit mood changes were assessed with the Implicit Positive and Negative Affect Test and explicit mood changes were assessed with the Positive and Negative Affect Schedule. Participants' implicit and explicit negative mood improved in the mindfulness and distraction groups, but not in the rumination group. The mindfulness group displayed greater congruence between implicit and explicit mood than the other groups. Trait mindfulness was associated with lower implicit—but not explicit—negative mood across the whole sample both before and after the strategy induction but did not moderate the effects of the strategy induction on mood improvement. These findings indicate that mindfulness can facilitate emotion regulation on both implicit and explicit levels.