2013 | OriginalPaper | Hoofdstuk
5. When to Decide on Inpatient Pain Therapy?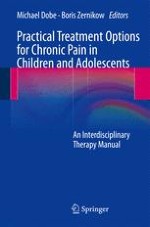 eerste hoofdstuk lezen
Auteurs: Michael Dobe, Boris Zernikow
Uitgeverij: Springer Berlin Heidelberg
Abstract
Many children suffering chronic pain can be effectively treated in an outpatient setting. With pain disorders severely affecting the patient's and his/her family's life (frequently missing school, social withdrawal), however, we have found the most effective treatment is multidisciplinary inpatient pain therapy. In this chapter, we first discuss the criteria used to determine the need and usefulness of inpatient pain therapy. Then we discuss contraindications.