25-06-2018 | Original Article – Design Study Article | Uitgave 7-8/2018 Open Access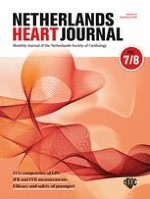 Transcatheter aortic valve replacement with the 34 mm Medtronic Evolut valve
Early results of single institution experience
Tijdschrift:
Auteurs:

G. D'Ancona, M. Dißmann, H. Heinze, D. Zohlnhöfer-Momm, H. Ince, S. Kische
Abstract
Objectives
To report our experience with the recently introduced 34 mm Evolut transcatheter aortic valve replacement (TAVR) prosthesis.
Background
A larger TAVR prosthesis has become available for the treatment of aortic stenosis (AVS) in larger native aortic annuli (up to 30 mm). Outcomes with this new device are still unreported.
Results
The first 25 transfemoral TAVRs performed by our team with the self-expandable 34 mm Evolut are presented. The majority of patients were male (84%) with a mean age of 81.3 ± 5.6 years, a median logistic euro-SCORE of 14.7 (5.4-61.0), and a computed tomography measured mean perimeter-derived aortic annulus diameter of 27.1 ± 1.4 mm (min. 25.0–max. 31.2 mm). We implanted one 34 mm Evolut in all patients. Median operative time and radiation time were 68.5 and 12.4 min respectively. To optimise final valve position and haemodynamic performance, at least one complete re-sheathing and re-positioning of the same valve was reported in 33.2%. New permanent pacemaker implantation (PPMI) was necessary in 28.5%. At Receiver Operating Characteristic (ROC) analysis, a minimal diameter of the left ventricular outflow tract <21.9 mm was a significant predictor for PPMI (specificity 82%; sensitivity 83%;
p
 = 0.005; Area Under the Curve (AUC) = 0.9). Length of stay in hospital was 9.2 ± 5.8 days and no in-hospital death was reported. At discharge, grade 1 + para-valvular regurgitation was present in 32%, and no regurgitation in the remaining patients. Device success and early safety were 100% and 92% respectively.
Conclusions
TAVR with the 34 mm Evolut prosthesis has shown satisfactory acute outcomes. Although results are consistent with those observed with smaller Evolut prostheses, a trend for a higher PPMI rate has been noticed and could derive from a higher oversizing rate.