01-08-2012 | Original article | Uitgave 7-8/2012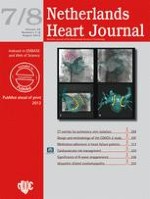 Three-dimensional computed tomography overlay for pulmonary vein antrum isolation: Follow-up and clinical outcomes
Tijdschrift:
Auteurs:

P. H. van der Voort, J. Stevenhagen, L. R. C. Dekker, R. Bullens, A. Meijer
Abstract
Background
To facilitate the creation of circumferential lines in pulmonary vein (PV) antrum isolation, three-dimensional (3D) navigation systems are used widely. Alternatively, 3D reconstructions of the left atrium (LA) can be superimposed directly on fluoroscopy to guide ablation catheters and to mark ablation sites.
Methods
In 71 atrial fibrillation patients circumferential PV ablation was performed. 3D reconstructions of the LA were derived from contrast cardiac-computed tomography and circumferential PV isolation was performed. In subsequent ablation procedures, veins were re-isolated, and defragmentation or linear lesions were performed if necessary.
Results
Adequate 3D reconstructions were formed and registered to fluoroscopy in all patients. All veins, except 2 in one single patient, could be isolated, resulting in freedom of AF in 45 patients (63 %). In 19 patients a second procedure was performed, in which 2.7 ± 1.1 PV per patient were re-isolated; in 3 patients a third procedure was performed. After follow-up of 15 ± 8 months, 51 (91 %) of patients with paroxysmal and 10 (67 %) with persistent AF were free of AF.
Conclusions
The results of 3D overlay for circumferential PV isolation are good, although the reconduction rate and need for subsequent ablations remains high, and the outcomes of this technique appear to be equivalent to other mapping techniques.