30-04-2016 | ORIGINAL PAPER | Uitgave 4/2016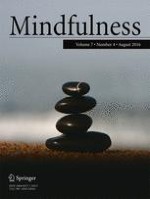 The Observing Facet of Trait Mindfulness Predicts Frequency of Aesthetic Experiences Evoked by the Arts
Tijdschrift:
Auteurs:

Neil R. Harrison, Daniel P. A. Clark
Abstract
Mindfulness can foster an enhanced sensitivity to internal and external impressions, which could result in heightened subjective responses to works of art. So far though, very little is known about the connection between mindfulness and aesthetic responses to the arts; therefore, the current study aimed to investigate whether there was an association between trait mindfulness and how often people report aesthetic experiences. We hypothesized that the observing facet of mindfulness would positively predict the self-reported frequency of aesthetic experiences (aesthetic chills, feeling touched, and absorption). Participants in an online study (
N
 = 207) completed the Five Factor Mindfulness Questionnaire, an aesthetic experience scale in relation to the area of the arts a participant encountered most frequently in their daily life and a measure of aesthetic expertise. Controlling for aesthetic expertise and sex, linear regression revealed that the observing facet of mindfulness was positively associated with aesthetic experience, as predicted. Non-reactivity positively predicted aesthetic experience, while non-judging was negatively associated with aesthetic experience. Potential explanations for the association between these three facets of trait mindfulness and aesthetic responses are discussed in relation to information-processing models of aesthetic experience. The findings provide preliminary support for the premise that levels of dispositional mindfulness are associated with the frequency of intense emotional responses to the arts, and recommendations for further research studies are outlined.