26-10-2017 | Uitgave 1/2018 Open Access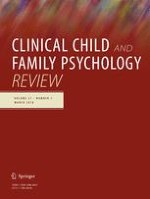 The Needs of Foster Children and How to Satisfy Them: A Systematic Review of the Literature
Tijdschrift:
Auteurs:

Anne Steenbakkers, Steffie Van Der Steen, Hans Grietens
Abstract
Family foster care deeply influences the needs of children and how these are satisfied. To increase our knowledge of foster children's needs and how these are conceptualized, this paper presents a systematic literature review. Sixty-four empirical articles from six databases were reviewed and categorized (inter-rater agreement
K
= .78) into four categories: medical, belongingness, psychological and self-actualization needs. The results give a complete overview of needs that are specific to foster children, and what can be implemented to satisfy these needs. This study shows psychological needs are studied more often compared to the other categories, which specially relates to much attention for mental health problems. Furthermore, most articles focus on how to satisfy the needs of foster children and provide no definition or concrete conceptualization of needs. Strikingly, many articles focus on children's problems instead of their needs, and some even use these terms interchangeably. This review illustrates that future research should employ a proper conceptualization of needs, which could also initiate a shift in thinking about needs instead of problems.