01-12-2012 | Research | Uitgave 1/2012 Open Access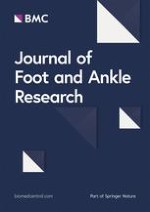 The effect of patients' preference on outcome in the EVerT cryotherapy versus salicylic acid for the treatment of plantar warts (verruca) trial
Tijdschrift:
Auteurs:

Sarah Cockayne, Kate Hicks, Arthur R Kangombe, Catherine Hewitt, Michael Concannon, Kim Thomas, Farina Hashmi, Caroline McIntosh, Gwen Brierley, David Torgerson, Ian Watt
Belangrijke opmerkingen
Competing interests
All authors have completed the Unified Competing Interest form at
http://​www.​icmje.​org/​coi_​disclosure.​pdf
(available on request from the corresponding author) and declare: SC, KH, GB, KT, FH and DT all received proportions of their salaries from the NIHR HTA grant in order to conduct the study. MC, CM and FH's institutions received funding from the NIHR HTA grant to cover the cost of treating trial participants. All other authors declare no support from any organisation for the submitted work. The 50% salicylic acid (Verrugon) plasters and felt pads were provided to the University of York, free of charge, by the manufacturer William Ransom & Son Plc. BOC Cryospeed provided liquid nitrogen storage equipment at reduced cost. Neither company has had any input into the design, analysis and reporting of the study.
Authors' contributions
DT and Jill Hall wrote the original protocol. SC, FH, DT and KT were co-applicants on the application to Health Technology Assessment Programme and refined the protocol. ARK and CH act as guarantors for the paper. DT and IW were Chief Investigators and oversaw the study. SC and KH were the trial coordinators and GB the trial support officer who managed the trial on a day to day basis, assisted, ARK and CH with data validation and data cleaning. CM, FH and MC recruited patients to the study and collected the trial data. ARK and CH designed and conducted the clinical analysis. The initial draft of the manuscript was written by SC and ARK but CH, CM, DT, FH, IW, KH, KT, MC have been involved in revising it critically for important intellectual content. All authors read and approved the final manuscript.
Abstract
Background
Randomised controlled trials are widely accepted as the gold standard method to evaluate medical interventions, but they are still open to bias. One such bias is the effect of patient's preference on outcome measures. The aims of this study were to examine whether patients' treatment preference affected clearance of plantar warts and explore whether there were any associations between patients' treatment preference and baseline variables in the EverT trial.
Methods
Two hundred and forty patients were recruited from University podiatry schools, NHS podiatry clinics and primary care. Patients were aged 12 years and over and had at least one plantar wart which was suitable for treatment with salicylic acid and cryotherapy. Patients were asked their treatment preference prior to randomisation. The Kruskal-Wallis test was performed to test the association between preference group and continuous baseline variables. The Fisher's exact test was performed to test the association between preference group and categorical baseline variables. A logistic regression analysis was undertaken with verruca clearance (yes or no) as the dependent variable and treatment, age, type of verruca, previous treatment, treatment preference as independent variables. Two analyses were undertaken, one using the health professional reported outcome and one using the patient's self reported outcomes. Data on whether the patient found it necessary to stop the treatment to which they had been allocated and whether they started another treatment were summarised by treatment group.
Results
Pre-randomisation preferences were: 10% for salicylic acid; 42% for cryotherapy and 48% no treatment preference. There was no evidence of an association between treatment preference group and either patient (p=0.95) or healthcare professional (p=0.46) reported verruca clearance rates. There was no evidence of an association between preference group and any of the baseline variables except gender, with more females expressing a preference for salicylic acid (p=0.004). There was no evidence that the number of times salicylic acid was applied was different between the preference groups at one week (p=0.89) or at three weeks (p=0.24). Similarly, for the number of clinic visits for cryotherapy (p=0.71)
Conclusions
This secondary analysis showed no evidence to suggest that patients' baseline preferences affected verruca clearance rates or adherence with the treatment.
Trial registration
Current Controlled Trials ISRCTN18994246 and National Research Register N0484189151