01-12-2012 | Research | Uitgave 1/2012 Open Access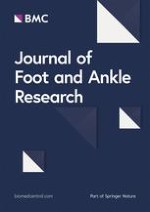 The effect of different depths of medial heel skive on plantar pressures
Tijdschrift:
Auteurs:

Daniel R Bonanno, Cheryl Y Zhang, Rose C Farrugia, Matthew G Bull, Anita M Raspovic, Adam R Bird, Karl B Landorf
Belangrijke opmerkingen
Electronic supplementary material
The online version of this article (doi:
10.​1186/​1757-1146-5-20
) contains supplementary material, which is available to authorized users.
Competing interests
The authors declare that there are no known conflicts of interest related to this project that could have influenced this manuscript.
Authors' contributions
All authors were fully involved in the preparation of the study procedures. CYZ, RCF, and MGB collected the plantar pressure data and all authors were involved in data analysis. DRB was responsible for the preparation of the manuscript with all other authors involved in its review prior to submission for publication. The material within has not been and will not be submitted for publication elsewhere. All authors read and approved the final manuscript.
Abstract
Background
Foot orthoses are often used to treat lower limb injuries associated with excessive pronation. There are many orthotic modifications available for this purpose, with one being the medial heel skive. However, empirical evidence for the mechanical effects of the medial heel skive modification is limited. This study aimed to evaluate the effect that different depths of medial heel skive have on plantar pressures.
Methods
Thirty healthy adults (mean age 24 years, range 18–46) with a flat-arched or pronated foot posture and no current foot pain or deformity participated in this study. Using the in-shoe pedar-X® system, plantar pressure data were collected for the rearfoot, midfoot and forefoot while participants walked along an 8 metre walkway wearing a standardised shoe. Experimental conditions included a customised foot orthosis with the following 4 orthotic modifications: (i) no medial heel skive, (ii) a 2 mm medial heel skive, (iii) a 4 mm medial heel skive and (iv) a 6 mm medial heel skive.
Results
Compared to the foot orthosis with no medial heel skive, statistically significant increases in peak pressure were observed at the medial rearfoot – there was a 15% increase (p = 0.001) with the 4 mm skive and a 29% increase (p < 0.001) with the 6 mm skive. No significant change was observed with the 2 mm medial heel skive. With respect to the midfoot and forefoot, there were no significant differences between the orthoses.
Conclusions
This study found that a medial heel skive of 4 mm or 6 mm increases peak pressure under the medial rearfoot in asymptomatic adults with a flat-arched or pronated foot posture. Plantar pressures at the midfoot and forefoot were not altered by a medial heel skive of 2, 4 or 6 mm. These findings provide some evidence for the effects of the medial heel skive orthotic modification.